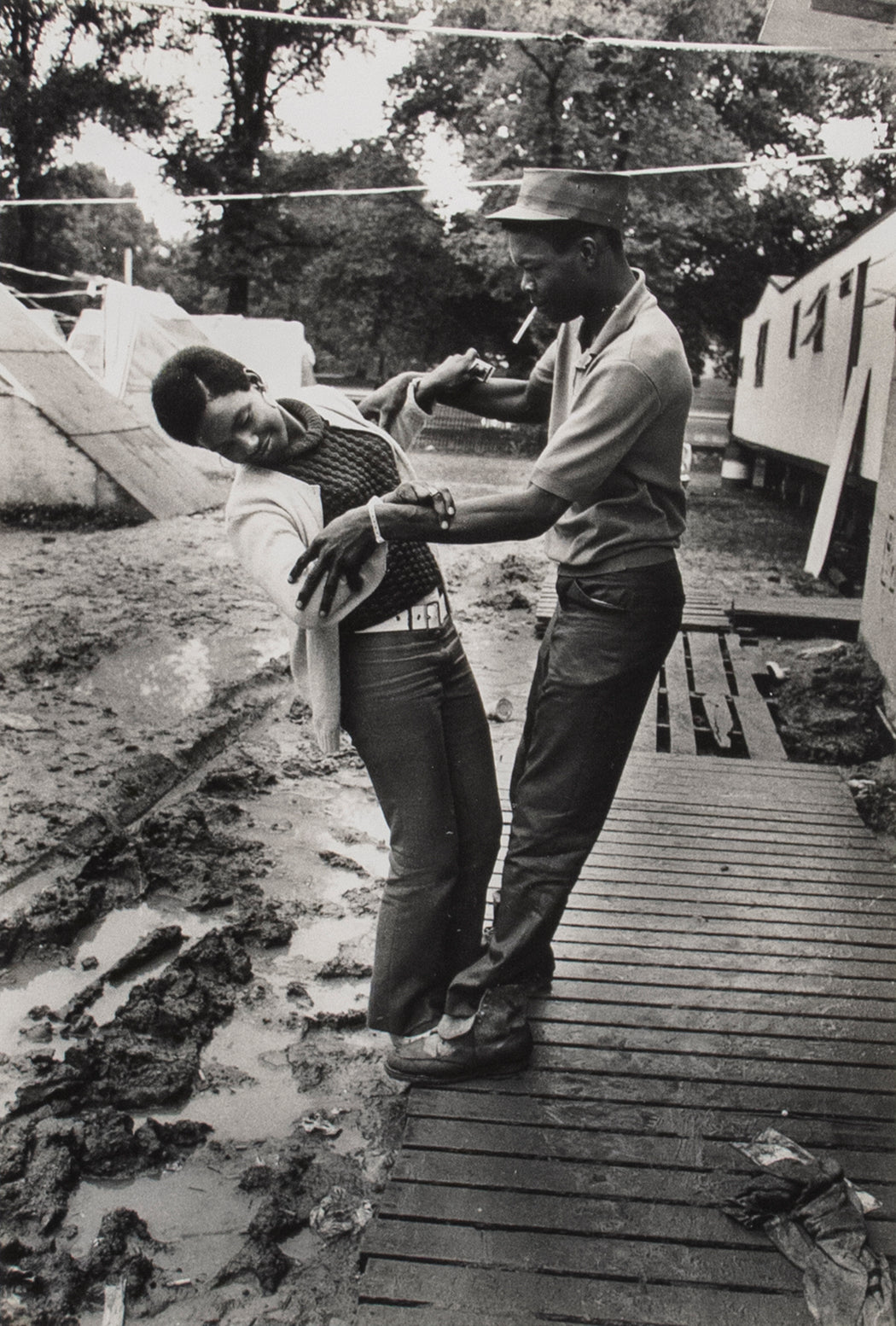 Untitled [Poor Peoples Campaign, Washington D.C.] by Jill Freedman
Stephen Bulger Gallery (
Toronto, ON)
Need help?
Call or text us at (416) 639-1512
.
Learn about our
Shipping & Returns policy
.
Have a question?
Read our FAQ
.
Artwork Info
About the Artist
May 1968
Gelatin silver print
From the series "Resurrection City"
Titled and annotated "Book Print: Old News", with artist stamp, in ink, au verso
Printed circa 1995

(b. 1939, Pittsburgh, USA; d. 2019, New York City, USA)

Jill Freedman was a New York-based photographer known for her incredible street images. As a self-taught photographer, Freedman began her career documenting The Poor People's Campaign in 1968. Devastated by the murder of Martin Luther King Jr., she was compelled to action. Freedman traveled from New York to Washington, D.C., picking up protesters along the way; she set up tents and lived in Resurrection City throughout the six weeks of peaceful protest. Her photographs of this time were published by Life magazine, launching her career in photography. Shortly after, her first book, Old News: Resurrection City was published in 1970.

Freedman's travels with the Clyde Beatty-Cole Brothers Circus over two months were the subject of her next book, Circus Days (1975). These photographs recorded the customs, activities, animals, and singular personalities of an endangered way of life. Freedman then set her sights on the New York City Fire Department (FDNY). Since she was not allowed to live in the firehouse because she was a woman, she slept in the captain's car in Harlem and the Bronx. Her book Firehouse (1977) captures the day-to-day lives of these firemen.

After Firehouse, Freedman's friends encouraged her to photograph the New York Police Department. She initially resisted due to her negative experiences with police during the Poor People's Campaign as well as her impressions of police brutality and indifference. However, acknowledging that she did not know any officers personally, she decided to set aside these feelings. The resulting publication Street Cops (1982) showcased her experiences with Midtown South and the 9th precincts in Manhattan.

Throughout these projects, Freedman frequently visited Ireland, which ultimately became her second home. Here, she photographed locals over a seven-year period. These photographs resulted in two books including A Time That Was: Irish Moments (1987) and Ireland, Ever (2004).

Freedman believed that the power of photography lay in human relationships. Unlike traditional photojournalists, she was not an "objective" outsider bearing witness to a foreign world. She became engulfed in her work creating bonds with her subjects that forged deeper emotional connections through photography.

Despite impressive bodies of work, Freedman never achieved the acclaim of her male contemporaries. She was forthright, contentious, and proud. This behavior was both common and admirable in male photojournalists, yet was ahead of the times for women working in a notoriously biased industry. Freedman was also vulnerable, sensitive, and intense, unafraid of the gory viscera of life. As a result, her work continues to inspire, proliferating throughout numerous monographs, exhibitions, and permanent collections around the world.

Freedman's work has been featured in solo and group exhibitions including the Fine Arts Center at the University of Massachusetts, Amherst; the Museum of Contemporary Photography, Columbia College Chicago; and the National Gallery of Ireland, Dublin. It is included in numerous public collections including the International Center of Photography, New York; Bibliothèque nationale de France, Paris; Moderna Museet, Stockholm, Sweden; Center for Creative Photography, Tucson, Arizona; Carnegie Museum of Art, Pittsburgh, Pennsylvania; Smithsonian American Art Museum, Washington, D.C.; National Gallery of Ireland, Dublin; Museum of Fine Arts, Boston, Massachusetts; and Museum of the City of New York, NY.