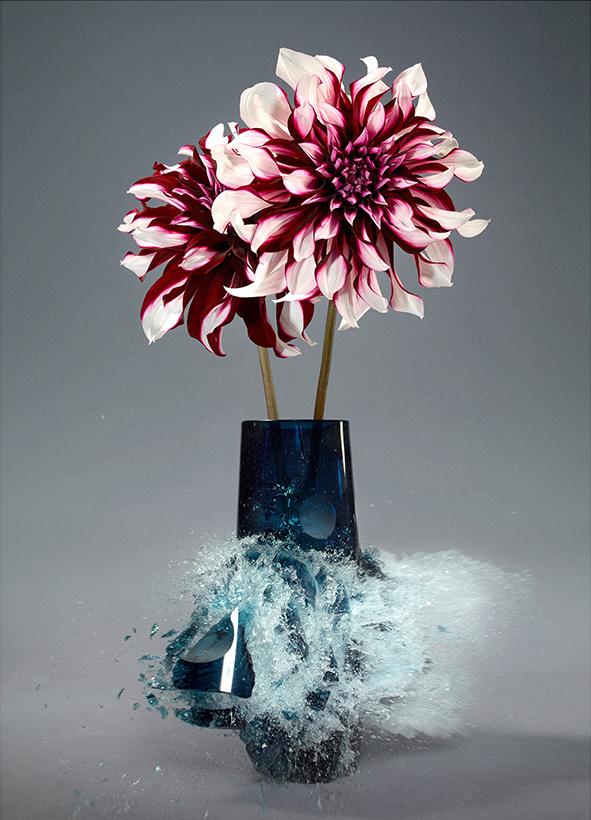 Untitled (Dahlia II) by Martin Klimas
Bau-Xi Gallery (
Toronto, ON)
Need help?
Call or text us at (416) 639-1512
.
Learn about our
Shipping & Returns policy
.
Have a question?
Read our FAQ
.
Artwork Info
About the Artist
2018
Archival inkjet print mounted on archival substrate
Edition of 5 (#3/5)
Editioned at 30 x 24 inch (76.2 x 60.96 cm)
Framed

Martin Klimas (b. 1971) is a fine art photographer based in Dusseldorf, Germany. Drawing inspiration from photographers and inventors such as Eadweard Muybridge and Dr. Harold Edgerton, Klimas uses the latest technological advancements in high speed photography to capture a split-second of movement. In his work, Klimas captures the moment of destruction as an elegant flower vase is destroyed by a projectile, the explosion of shattered porcelain as a figurine dropped from a height hits the floor, and the visually stimulating effects of soundwaves on pools of neon paint. His interest lies not in the ruin of the subject, but in the precise moment a dramatic transformation takes place. Klimas' work has been exhibited internationally in several solo and group exhibitions, and can be found numerous private and corporate collections. Klimas received a Bachelor Degree in the Study of Photography from the University of Applied Sciences in Dusseldorf in 1998.