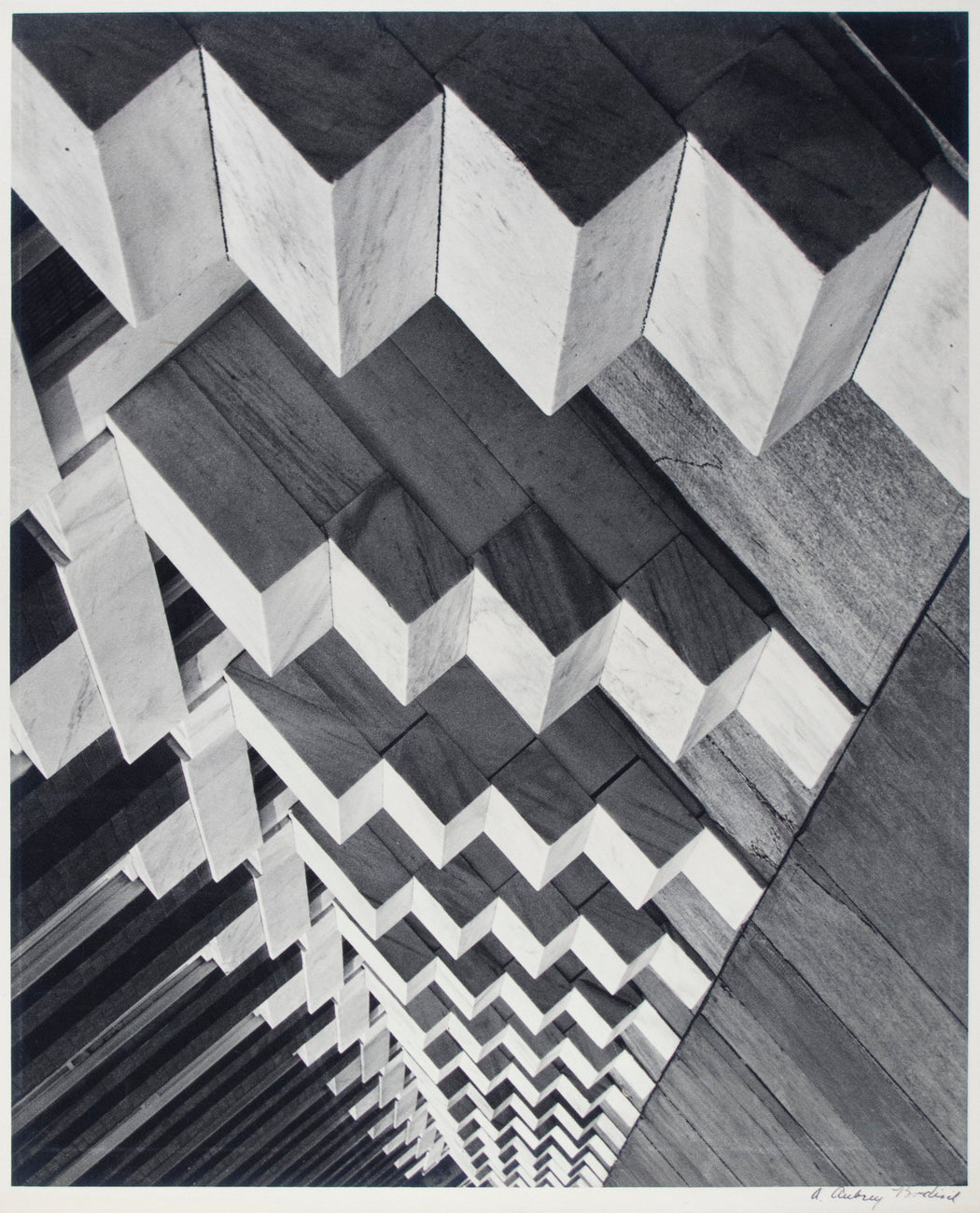 Untitled [Baltimore Steps] by A. Aubrey Bodine
Stephen Bulger Gallery (
Toronto, ON)
Need help?
Call or text us at (416) 639-1512
.
Learn about our
Shipping & Returns policy
.
Have a question?
Read our FAQ
.
Artwork Info
About the Artist
About this Photograph
circa 1935
Photogravure on period paper mounted to board
Signed, in ink, au print recto
Annotated, "#32.1", "A. Aubrey Bodine, Baltimore Steps", in pencil, au mount recto
Printed circa 1935

Aubrey Bodine (1906-1970) began his photographic career in 1923 when, as an office boy with the Baltimore Sun, he submitted photographs of the Thomas Viaduct at Relay to the editor of the Sunday paper, and they were published. He progressed to become a newspaperman, covering all sorts of stories with his camera. Out of this experience came remarkable documentary pictures of farming, oystering, hunting, soap boiling, blacksmithing, clock making, bricklaying and dozens of other occupations, and student nurses, Amish children, pilots of ships and planes, country folk and city folk, wood sheds and cathedrals, wagons and railroad engines, and, in short, almost everything of interest. Bodine's documentary pictures are of the very finest quality, often artistic in design and using lighting effects far beyond the usual standard of newspaper work.

Bodine's talent ran deeper than being a newspaperman, and so did his ambition. He submitted photographs to national and international salon competitions and consistently won top honors. Bodine believed that photography could be a creative discipline, and he studied the principles of art at the Maryland Institute College of Art. The camera and the dark room equipment were tools to him like the painter's brush or the sculptor's chisel.

Bodine was a romantic pictorialist and this shows in his choice of subjects  –  the old times and the old things, the beauties of nature, man as an individual, and similar ideas. The pictures are usually quiet in mood partly because of the subdued tones and partly because of a low-tension design made of open curves and natural perspective.

Some of Bodine's best pictures were composed in the viewfinder of the camera. In other cases, he worked on the negative with dyes and intensifiers, pencil marking, and even scraping to produce an effect he had in mind. He added clouds photographically, and made other even more elaborate manipulations. Bodine's rationale for all these technical alterations of the natural scene was simply that, like the painter, he worked from the model and selected those features which suited his sense of mood, proportion, and design. The picture was the thing, not the manner of arriving at it. He did not take a picture, he made a picture.

– Adapted from AAubreyBodine.com

This well-known photograph by Aubrey Bodine is presented as an unusually large photogravure. The printer's inks on the smooth paper chosen by Bodine when pulling the print combine to render the details soft, which serves to highlight the abstraction of the photograph. A dazzling vortex, turning the photograph clockwise a little more than 90 degrees reveals the iconic marble steps of Baltimore.