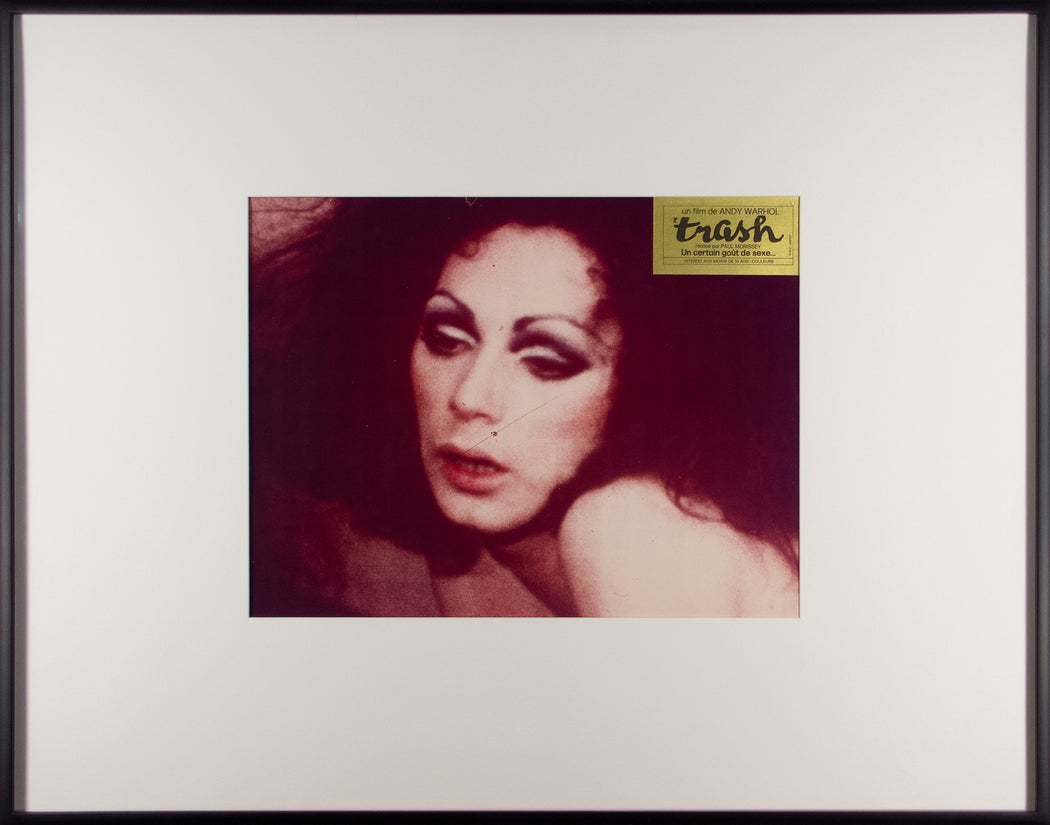 Trash, Holly Woodlawn by Paul Morrissey
Stephen Bulger Gallery (
Toronto, ON)
Need help?
Call or text us at (416) 639-1512
.
Learn about our
Shipping & Returns policy
.
Have a question?
Read our FAQ
.
Artwork Info
About the Artist
1970
Photogram of film printed on Agfa colour film
Printed circa 1970



Often overlooked as an independent filmmaker because of his association with Andy Warhol, Paul Morrissey (b. 1938) was instrumental in enhancing the celebrity of that pop icon, while his own fame fell victim to the success of his myth-making. The Fordham University graduate had made several short films prior to meeting Warhol who remarked, "Your films are great. They are in focus! Why not come help me make a movie?" Warhol had already made the epically monotonous "Empire" (1964), in which the camera stares at the Empire State Building for eight hours, among his experiments in the inane. Morrissey brought camera movement and editing to the Warhol pictures, as well as the camp, satire and 'social realism' that made the films appeal to a wider circle. Though Warhol liked to operate the camera, he withdrew from the filmmaking process after Valerie Solanas shot him on June 3, 1968, leaving the field wide open for Morrissey to enjoy unprecedented freedom as a director, though Warhol's "brand name" continued to "present" the product. He has described the shooting in interviews as "an ill wind that blew somebody some good."

One day in 1967, while Morrissey and Warhol were shooting "The Loves of Ondine" (1967), Joe Dallesandro walked in through the open door of the Greenwich Village apartment and ended up in the movie. It was the beginning of a long collaboration between Morrissey and Dallesandro, who as the enigmatic, often naked star of a trilogy of films at the center of the Morrissey oeuvre "forever changed male sexuality in the cinema," according to director John Waters. Morrissey had already found a formula for working improvisationally with young, untrained actors, and now he had his Brando, the quiet, eye of the storm around whom he could spin dramatic lunacy. In "Flesh" (1968), which would go on to make $2 million on its meager $1500 budget, Dallesandro was a male hustler turning tricks to pay for his wife's girlfriend's abortion. In "Trash" (1970), Morrissey's enduring commercial hit re-released in 2000, the actor was a drug addict unable to perform sexually despite numerous opportunities, whereas "Heat" (1972), which marked the director's transition to traditional linear storylines, cast him as a washed-up child star preying on Sylvia Miles a la "Sunset Boulevard." In all, Dallesandro radiated a sort of passive virility (to go with the beefcake) attractive to both women and gay men.

Though Morrissey worked with producers Carlo Ponti, Andy Braunsberg and Jean-Pierre Rassam on two Gothic horror spoofs "Flesh for Frankenstein" (1973) and "Blood for Dracula" (1974) in Europe. Warhol got the credit when distributors called them "Andy Warhol's Frankenstein" and "Andy Warhol's Dracula." Both starred German actor Udo Kier opposite Dallesandro and both made money, but "Frankenstein" with its severed heads and hands galore (plus an X rating) made more money than any of Morrissey's previous films, while "Dracula" was the better, more poetic picture. Kier's Old World Baron was at the other end of the spectrum from Dallesandro, whose howlingly funny Jersey accent cut an incongruous swath through the European accents around him, but the premise of "Dracula" presented an even better gag. Kier's sickly Count, who must feast on the blood of virgins ("where-gins") to survive, keeps getting beaten to the bed by the hunky Dallesandro. Morrissey abandoned improvisation when he realized his actors were having trouble acting spontaneously in front of the biggest crew he had ever used and would never return to it. Instead, he brought a secretary to the set to record his "off-the-cuff" dialogue for the cast to quickly memorize before going before the cameras.

Morrissey's association with Warhol was over, and he struggled in the absence of the Warhol "branding." Despite the comic input of Dudley Moore and Peter Cook, "The Hound of the Baskervilles" (1978) fell flat, and of his next five films, only two, "Mixed Blood" (1985) and "Spike of Bensonhurst" (1988, his last film to date and arguably his most mainstream confection), received timely releases. "Retired" from filmmaking because he refuses to give up the control he has always had over his product, by the late 90s, Morrissey was finally emerging from Warhol's shadow as more and more people recognized him as a true "independent." One of the oddest ducks to work at the Warhol "Factory," he was the conservative businessman of the group, putting in his nine hours a day to generate revenue throughout his time there. Ironically, this man who saw his work labeled as "obscene, vulgar and profane" was a Ronald Reagan Republican, but he was just faithfully recording the times.