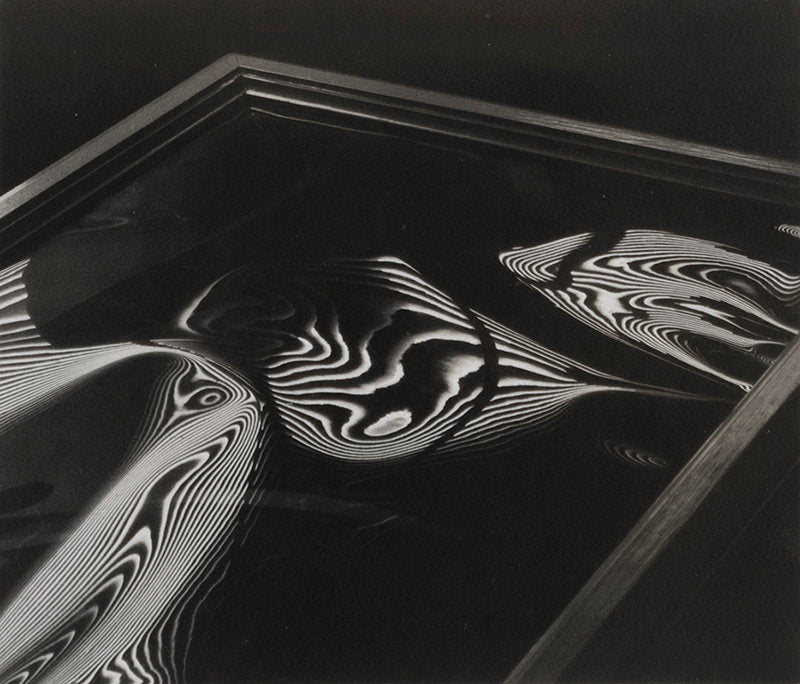 Striped Light by Carlotta Corpron
Stephen Bulger Gallery (
Toronto, ON)
Need help?
Call or text us at (416) 639-1512
.
Learn about our
Shipping & Returns policy
.
Have a question?
Read our FAQ
.
Artwork Info
About the Artist
About this Photograph
circa 1945
Gelatin silver print
Signed, in pencil, au verso
Printed circa 1945

Carlotta Corpron (December 9, 1901 – April 17, 1988) was born in Blue Earth, Minnesota, but spent fifteen years of her youth in India. She returned to the United States in 1920 to earn degrees in art education at Michigan State Normal College and Columbia University, and was first introduced to photography in 1933. Her interest grew out of her desire to create close-up images of natural forms for use in art and design courses, and her vision was influenced by László Moholy-Nagy, and further shaped by her friendship with Gyorgy Kepes, who included her in his book The Language of Vision (1944). Of particular note are Corpron's early light drawings, made by tracking moving light at amusement parks–radiant images of wild edges and rhythmic lines–and her "space compositions," which employed eggs and shells, although their real subject is the constructed space in which they exist. This space, achieved by the use of light-reflecting surfaces, often seems to reproduce the perceptual distortions of underwater realms. Corpron also made "fluid light designs" examining reflections on plastic materials; "light follows form" studies of sculpture; abstractions of light flowing through glass; and solarizations of flowers and portraits. She retired from teaching in 1968 but continued printing her earlier work. Corpron's photographs were shown at the Museum of Modern Art and the Art Institute of Chicago, and were included in the 1979 ICP exhibition Recollections: Ten Women in Photography.

Corpron's experiments with light are among the most intriguing abstract photographic works from her day, sharing as they do the concerns of her predecessors Moholy-Nagy, Man Ray, and Alvin Langdon Coburn. Her work is significant for its inventive and resolutely independent exploration of the aesthetic possibilities of light and space. Wrought from simple materials and the free play of imagination, Corpron's light abstractions are increasingly admired.

Source: International Center of Photography

Carlotta Corpron's compositions featuring abstract displays of light show her influences while standing strongly on their own. This listing is for a photograph typical to Corpron's sophisticated output. The angles of the frame within the composition seem to barely contain the enclosed, luminous abstraction. The tension can be seen as emotional or intellectual, depending on the mood of the viewer. Subtle but thrilling.