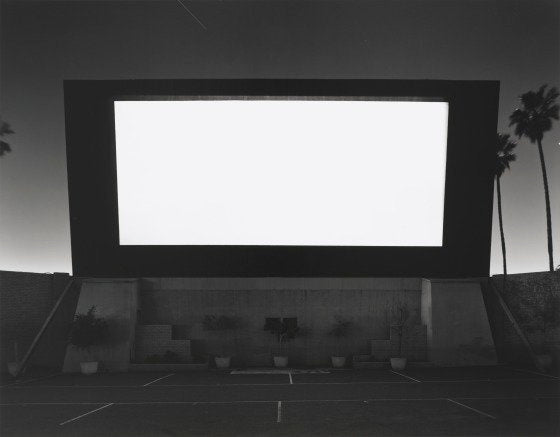 Rubidoux Drive In by Hiroshi Sugimoto
Stephen Bulger Gallery (
Toronto, ON)
Need help?
Call or text us at (416) 639-1512
.
Learn about our
Shipping & Returns policy
.
Have a question?
Read our FAQ
.
Artwork Info
About the Artist
About this Photograph
1993
Gelatin silver print mounted to archival board
Editioned and numbered, blind stamp, au recto
Signed, titled, dated, and editioned, in pencil, au mount recto
Edition 8 of 25
Printed circa 1995

Hiroshi Sugimoto is a Japanese photographer who divides his time working in Tokyo and New York City.

Links: Hiroshi Sugimoto.com; Wikipedia.

This image is from Sugimoto's famous series depicting the result of maintaining an exposure that lasted for the duration of the movie that was being projected onto the drive-in screen. The projected light causes the screen to render as pure white in this photography, while the light reflected off of the screen illuminates the immediate night-time surroundings. the exposure of the photograph lasted for the duration of the film.

This print was purchased from the 1995 exhibition at the York University Art Gallery.