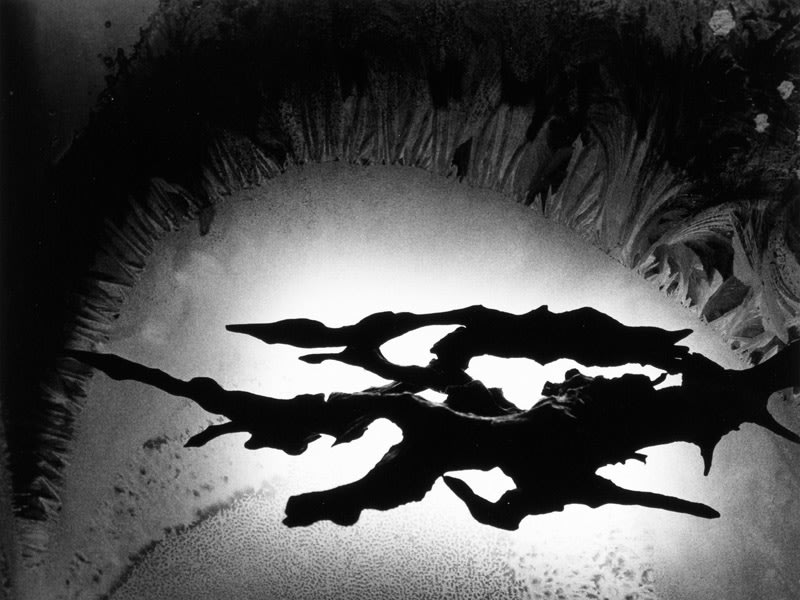 Root and Frost, Rochester, New York by Minor White
Stephen Bulger Gallery (
Toronto, ON)
Need help?
Call or text us at (416) 639-1512
.
Learn about our
Shipping & Returns policy
.
Have a question?
Read our FAQ
.
Artwork Info
About the Artist
About this Photograph
1958
Gelatin silver print
Mounted to period board
Signed, in pencil, au recto
Titled and dated, in pencil, au mount recto
Published in Mirrors, Messages, Manifestations, by Aperture Provenance: David Mirvish Gallery, 1977
Printed circa 1972

Minor White (1908-1976) was an American photographer, theoretician, critic, and educator. He combined an intense interest in how people viewed and understood photographs with a personal vision that was guided by a variety of spiritual and intellectual philosophies. White made thousands of photographs of landscapes, people, and abstract subject matter. His work exhibits technical mastery and a strong sense of light and shadow.

White was greatly influenced by Alfred Stieglitz's concept of "equivalence," which he interpreted as allowing photographs to represent more than their subject matter. He wrote, "when a photograph functions as an Equivalent, the photograph is at once a record of something in front of the camera and simultaneously a spontaneous symbol."

As an educator, White taught out of his home as well as leading courses at the California School of Fine Arts, the Rochester Institute of Technology, the Massachusetts Institute of Technology, and other schools. He helped launch the influential photography journal, Aperture, and was its editor for many years.

— adapted from Wikipedia

This is a well-known photograph by Minor White, which displays his ability in framing photographs that utilize abstraction to transform the everyday into a spiritual statement. Printed circa 1972, this print has deep blacks and richly toned greys, showing a mastery of black and white printing.