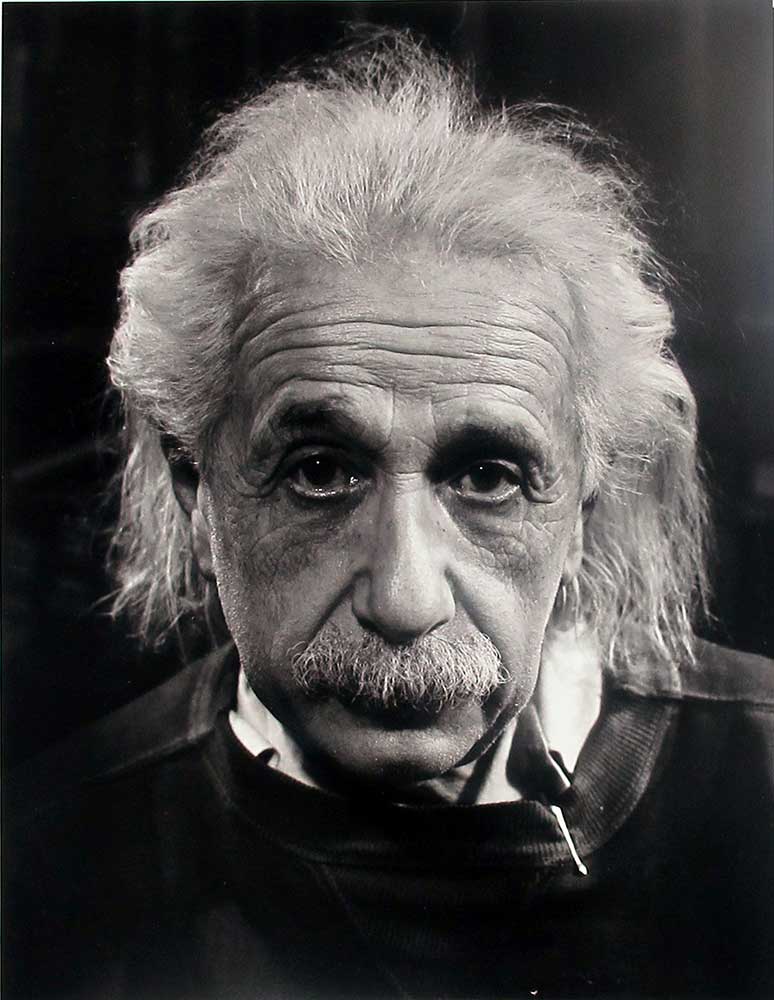 Prof, Albert Einstein at Princeton, NJ by Philippe Halsman
Stephen Bulger Gallery (
Toronto, ON)
Need help?
Call or text us at (416) 639-1512
.
Learn about our
Shipping & Returns policy
.
Have a question?
Read our FAQ
.
Artwork Info
About the Artist
About this Photograph
1947
Gelatin silver print
Signed, titled, and dated, in pencil, with artist's stamp, in ink, au verso
Printed circa 1975

Philippe Halsman a portrait photographer. He was born in Riga, Latvia, and died in New York City. Celebrities photographed by Halsman include John F. Kennedy, Alfred Hitchcock, Dean Martin and Jerry Lewis, Judy Garland, Winston Churchill, Marilyn Monroe, and Pablo Picasso. Many of his photographs appeared on the cover of LIFE Magazine.

ABOUT: Wikipedia

This iconic portrait of Albert Einstein is one of the most recognizable images of the famed professor. The dramatic lighting strengthens Einstein's visage, but his worn expression captures his vulnerability.

This is a clean print with rich tonality; there is a small 1/8 – 1/4 inch wide border surrounding the image area and the upper right margin is missing about 1/16th of its emulsion base, but this is not visible in the image.

Regarding condition, we believe that you should only buy photographs in the best possible condition. Like anything made by hand, small mistakes can happen during processing, so although the artist does not create anything that is "perfect", they cannot release anything that falls below a high threshold of craft. This is why it is important to have prints authenticated, which is usually via the artist's signature. We filter out photographs in poor condition and only offer photographs that are acceptable to discerning buyers. With photographs that exist as unique copies we have a wider area of acceptance, but describe any flaws we detect.

PROVENANCE: Purchased by the current owner in the mid 1970's from the Mirvish Gallery, Toronto.