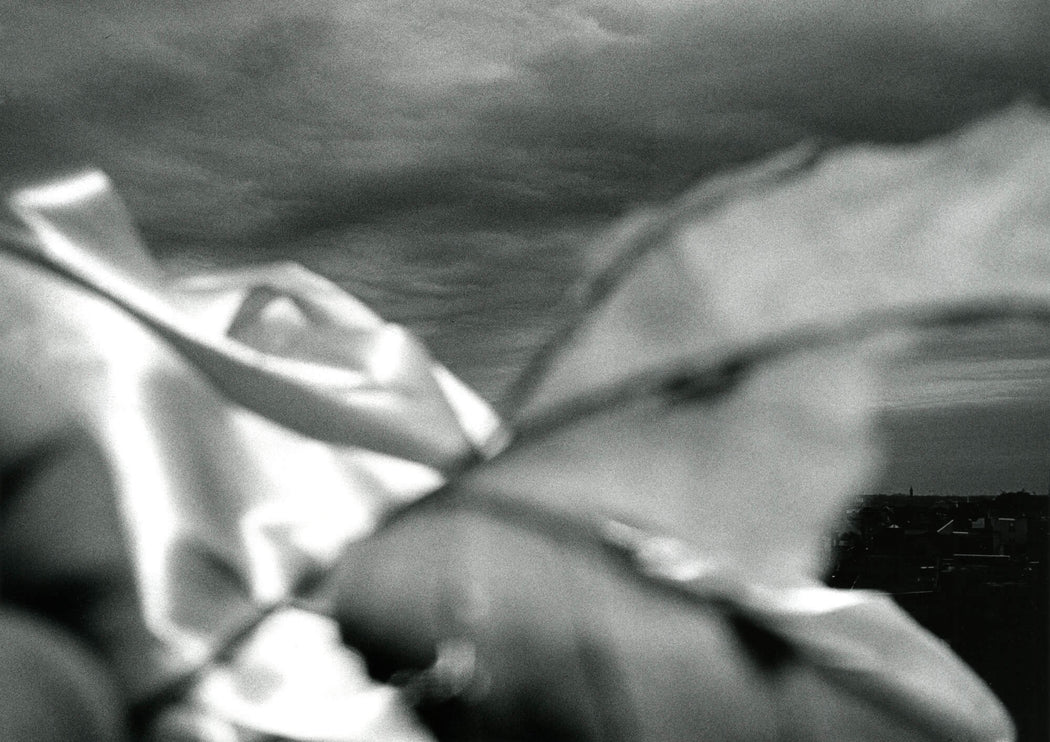 Pictus Interruptus, Philadephia by Ray Metzker
Stephen Daiter Gallery (
Chicago, IL)
Need help?
Call or text us at (416) 639-1512
.
Learn about our
Shipping & Returns policy
.
Have a question?
Read our FAQ
.
Artwork Info
About the Artist
Artist Docs
1980
Gelatin silver print
Signed and annotated '80FL-15Ah b/81' by artist, in pencil, au verso
Printed circa 1980
Unframed
Edition: 4 of 20

Ray Metzker (American, 1931-2014) captured scenes from gritty city streets, sunlit beaches, the Southwestern desert, and idyllic rural landscapes in black and white. In the darkroom, he manipulated light to create effects that ranged from eye-catchingly stark to soothingly gentle to perplexingly peculiar. One of his techniques was to hold up white cards or other objects in front of the camera to disrupt real-world scenes into bold abstractions.

Born in 1931, Metzker grew up loving classical music, history, and drawing. But photography became his passion after his mother gave him his first camera when he was 12. He began developing prints in his bedroom, studied photographs in Life and Look magazines and won high school competitions sponsored by Eastman Kodak.

Metzker graduated from Beloit College in Wisconsin with a fine arts degree in 1953. He was then drafted into the Army and stationed in Korea, where he taught photography and music appreciation. After his honorable discharge in 1956, he went to the Institute of Design at the Illinois Institute of Technology in Chicago and studied there with the eminent modernist photographers Harry Callahan and Aaron Siskind. He earned a master's degree in 1959.

The series of pictures of Chicago's downtown that constituted his master's thesis caught the eye of Edward Steichen, then Curator of Photography at the Museum of Modern Art, who bought 10 of his photographs. The same year, Metzker's photographs were exhibited at the Metropolitan Museum of Art.

He then traveled around Europe for a year and a half, taking, developing and selling pictures. After that he moved to Philadelphia, where he taught and was chairman of the photography and film department of the Philadelphia College of Art, now part of the University of the Arts.

He took evocative city shots in Philadelphia, as he had in Chicago. One showed a darkened building filling most of the frame, providing a hulking backdrop to a tiny car. He began his "composites" technique in Philadelphia around 1964 and continued it for 20 years.

In the late '60s, he prowled Atlantic City beaches, concentrating on the patterns of light penetrating the boardwalk in one series. In the second half of the '70s, he concentrated on what he called "Pictus Interruptus," photographs in which objects close to the camera lens obscured the distant view. This technique, which created tension between sharp and out-of-focus forms, was often compared to surrealism.

In the early '80s, he returned to taking city pictures, then switched to luminous rural landscapes. For the last decade of his life, he mainly photographed Philadelphia.

Mr. Metzker received two fellowships from the Guggenheim Foundation and two from the National Endowment for the Arts.

— Adapted from the artist's New York Times obituary

Ray Metzker found himself captivated by the desert geography and quality of light that he observed while working as a visiting professor at the University of New Mexico in the early 1970s. He began to formulate ideas that would come to be realized in his Pictus Interruptus series of 1976-1980. These images were created by holding or positioning objects close to the camera, mainly obscuring the background. The resulting – almost surreal – artworks straddle representation and abstraction, providing yet another example of Metzker's lifelong quest to stretch the medium of photography to its limit.