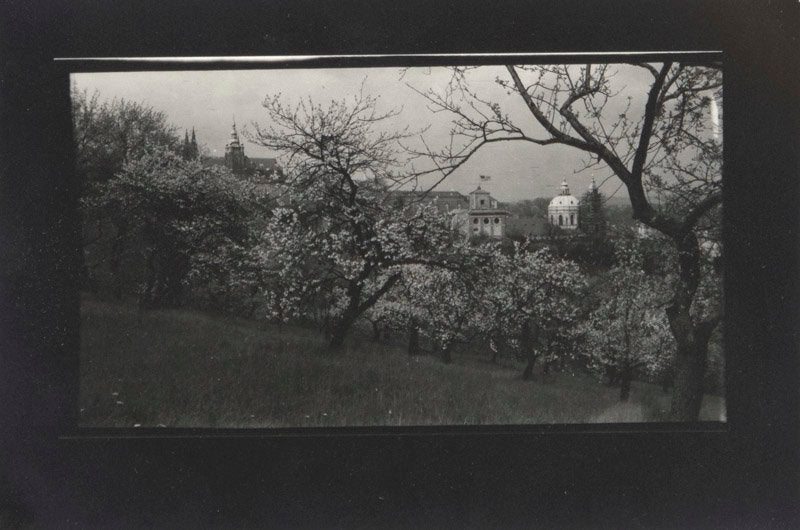 (Paysage) by Josef Sudek
Stephen Bulger Gallery (
Toronto, ON)
Need help?
Call or text us at (416) 639-1512
.
Learn about our
Shipping & Returns policy
.
Have a question?
Read our FAQ
.
Artwork Info
About the Artist
About this Photograph
circa 1950
Matte surface gelatin silver print
Printed circa 1960

Josef Sudek (Czech, 1896-1976): Born in the town of Kolin, Josef Sudek began his working life as an apprentice bookbinder. He lost his right arm while serving in the army and then turned to photography instead. He was a member of the Prague Club for Amateur Photographers from 1920-24, and studied photography at the State School of Graphic Arts in Prague from 1922 to 1924. His early work was influenced by that of Clarence White, who espoused a Pictorialist approach to light and form.

During the 1920s, Sudek created a series of photographs of disabled Czech soldiers; in 1927 he was one of the founding members of the renegade Czech Photographic Society, dedicated to documentary photography. His series of photographs of the renovation of the St. Vitus Cathedral in which he juxtaposed architectural details of the cathedral with the abstract forms of workers' tools won him the title of official photographer for the city of Prague in 1928. After his first solo exhibition, in 1933, Sudek's work was shown alongside that of László Moholy-Nagy, Man Ray, and Alexander Rodchenko at the city's International Photography Exhibition in 1936. Another twenty-five years passed before he received international acclaim for his tender scenes of Prague street life, still lifes, and views from his window. Solo exhibitions of his work have been held at the George Eastman House, ICP, and the Musée National d'Art Moderne in Paris.

With the exception of his military service in Italy and a brief trip through Italy and Belgium in the late 1920s, Sudek spent his entire life in Czechoslovakia, photographing Prague with intimacy and affection. He is perhaps best known for The Windows of My Studio, a series created between 1940 and 1954. Greatly concerned with print quality, Sudek preferred to make large-format contact prints of his work and experimented with the demanding technique of pigment printing.

Source: International Center of Photography

This is a charming photograph that bares evidence of Sudek's ability to create poetic statements out of simple scenes. This contact print offers an intimate view into Sudek's world, rendered magical by his ability to use the printing process to imbue delicate tones that mirror the soft complexity of his work.