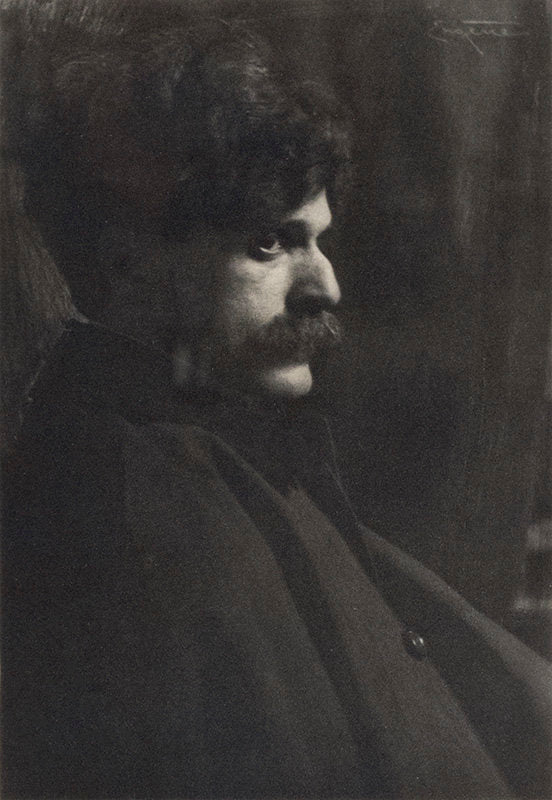 Mr. Alfred Stieglitz by Frank Eugene
Stephen Bulger Gallery (
Toronto, ON)
Need help?
Call or text us at (416) 639-1512
.
Learn about our
Shipping & Returns policy
.
Have a question?
Read our FAQ
.
Artwork Info
About the Artist
About this Photograph
1909
Photogravure on period paper
Published in Camera Work, January 1909, 25:41

Born Frank Eugene Smith (1865-1946) to German immigrants in New York, Frank Eugene (as he was professionally known) trained as a painter at the Royal Academy of Fine Art in Munich. Returning to New York, he took up photography to aid in the execution of his painted portraits, and by 1899 he had advanced sufficiently to exhibit 77 photographs at the New York Camera Club. In 1900, Stieglitz dedicated an issue of Camera Notes to Eugene, and he was elected to the Brotherhood of the Linked Ring, a Pictorialist photographic society in London; two years later, he was among the founding members of the Photo-Secession. In 1906, Eugene moved to Germany, where he continued to paint, photograph, and work in other media. He and Stieglitz remained close friends, mutual admirers, and artistic colleagues.

Frank Eugene was acclaimed for incorporating painterly techniques into his photographs and photogravures, which were largely confined to portraits and nudes. Alfred Stieglitz - the subject of this photo portrait - applauded Eugene's work, especially his platinum prints on Japanese tissue paper, and included him in exhibitions and in several issues of Camera Work.

This photogravure was originally included in a copy of Issue No. 25, January 1909, of Camera Work, Alfred Stieglitz's ground-breaking photography journal.