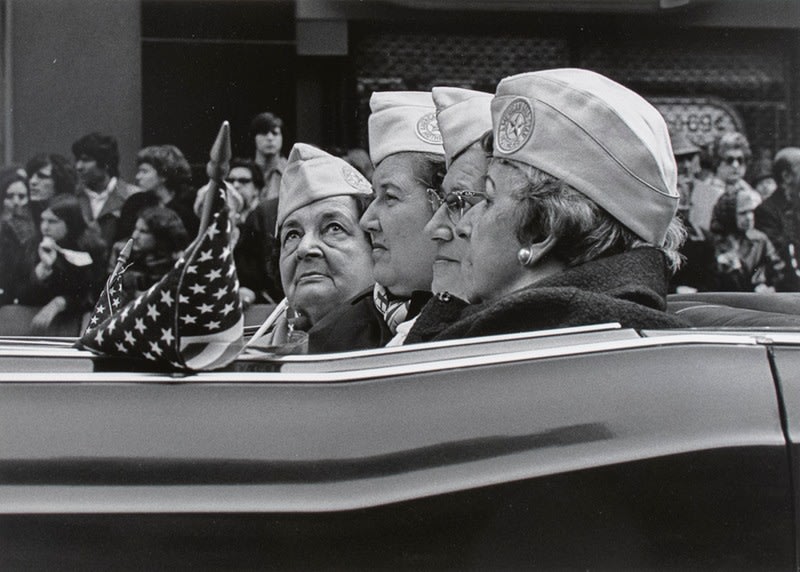 Loyalty Day Parade, New York by George W. Gardiner
Stephen Bulger Gallery (
Toronto, ON)
Need help?
Call or text us at (416) 639-1512
.
Learn about our
Shipping & Returns policy
.
Have a question?
Read our FAQ
.
Artwork Info
About the Artist
1973
Gelatin silver print
Signed, in pencil, au recto
Signed, titled, and annotated, in pencil, au verso
Printed circa 1990



George W. Gardner (1940-2022) graduated in 1964 from the University of Missouri with a BA in Anthropology. While at the university, he was greatly influenced by the school's department of photojournalism. While never actually a photojournalism student, he nonetheless won 25 awards from the department for his photography, including the school of photojournalism's Major Portfolio award.

Using a 35mm Leica and working in black and white, Gardner traveled throughout the 1960s and '70s across America by motorcycle, car and his single-engine plane, serving as a sort of anthropologist photographer. His books America Illustrated and Gun People, published 1982 in 1985 respectively, gave us all a look at America's response to the Vietnam War, guns and bibles. He forced us to look at ourselves and at America, for better or worse. The New Yorker compared his work to that of Lee Friedlander, Gary Winogrand, and Dave Heath.

Flying in their 1947 Cessna 195 in the early to mid-1980s, Gardner and his wife, Roberta Homan Gardner, photographed inns and authored guidebooks to inns across the country, including the series Country Inns of America; and they also roamed from Labrador to the Yucatan Peninsula for A.J. McClane's Great Hunting and Fishing Lodges of North America. 

Gardner's work is held in the collections of the Art Institute of Chicago, Metropolitan Museum of Art, Museum of Modern Art, Smithsonian American Art Museum and DePaul University Art Museum. In 1981, he received the New York State Creative Artists Public Service Fellowship.