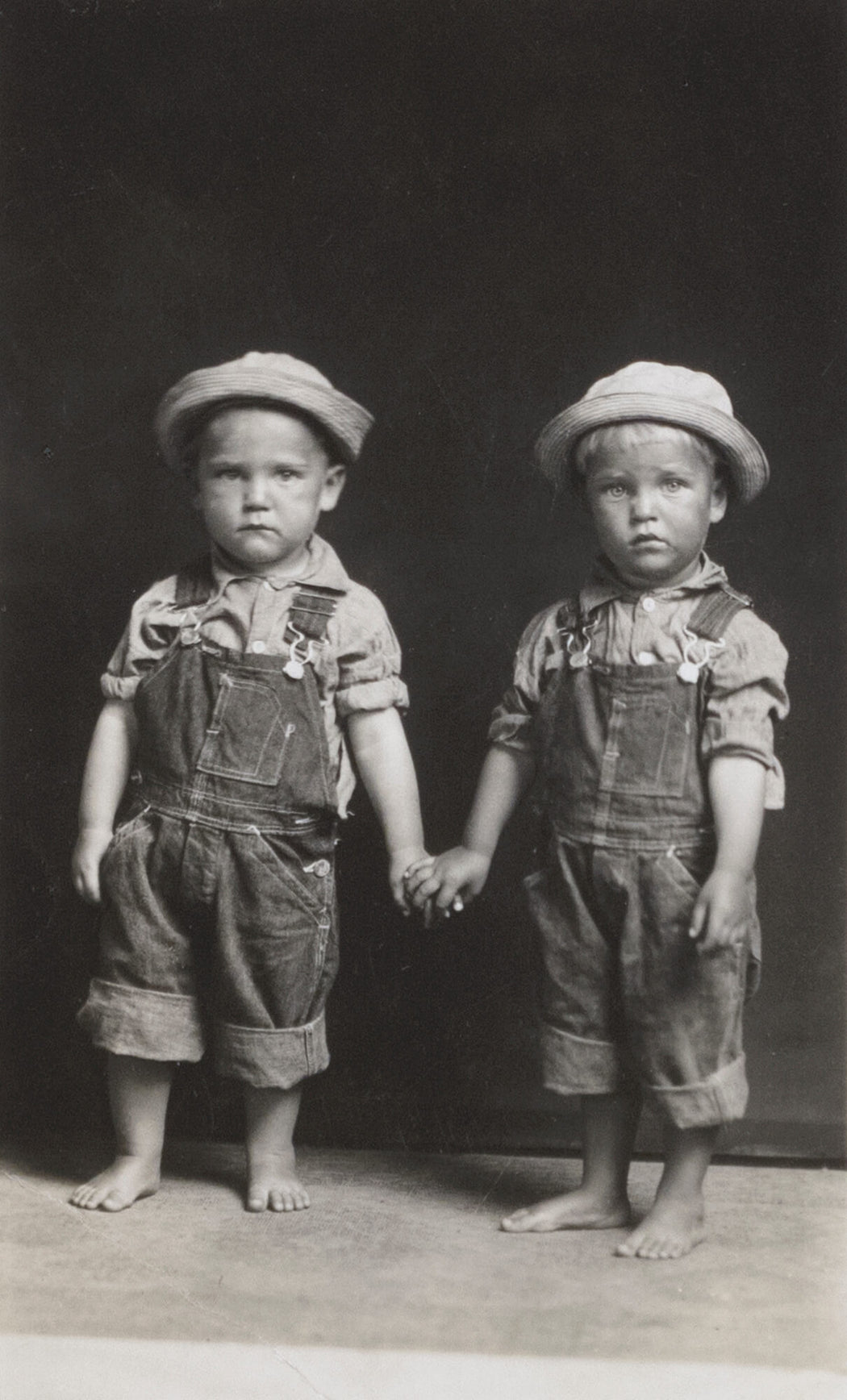 (Leo and Leon Todd) by Mike Disfarmer
Stephen Bulger Gallery (
Toronto, ON)
Need help?
Call or text us at (416) 639-1512
.
Learn about our
Shipping & Returns policy
.
Have a question?
Read our FAQ
.
Artwork Info
About the Artist
About this Photograph
circa 1940
Gelatin silver print
Inscribed, "Leo and Leon Todd" in pencil, au verso
Printed circa 1940

Michael Disfarmer was a small-town portrait photographer whose negatives came to national attention in 1973, when Julia Scully published them in Modern Photography. Scully had learned of them from Peter Miller, an Arkansas newspaper editor, who had received a few of Disfarmer's glass-plate negatives in response to a call for old photographs. What drew Miller and Scully to the images was the directness and unaffected quality of the portraits, which seemed to reveal the character of their subjects most perceptively. This sensibility may have stemmed from the fact that Heber Springs, where Disfarmer lived and worked, was a very small town where everybody knew the photographer. Whatever the case, Disfarmer's portraits are among the most moving documents of rural life in the American south between 1930 and 1959.

Disfarmer was not a particularly social individual, and little is known about his life. He was born Mike Meyer in Indiana and moved to Arkansas with his parents in the late 1800s. After his father died in 1914, he moved with his mother to Heber Springs, where he constructed a photography studio on the back porch of their house. Around 1930, when a tornado killed his mother and destroyed his house, he built a new studio on Main Street, and established himself as the town photographer. He tended to keep to himself, and was considered strange and eccentric by many townspeople. He changed his name to Disfarmer after his mother's death because he believed that a tornado had taken him from his real place of birth and deposited him with the Meyer family. Disfarmer used 5 x 7 inch glass plates early in his career and 3 ¼ x 5 ½ inch plates later, and he always made contact prints.

Source: International Center of Photography

This listing offers collectors a vintage print made shortly after the creation of the negative. The photograph is inscribed by the photographer with the names of his young subjects. This photograph is referred to as a "penny portrait", the kind of photo made as a keepsake for family or to send to relatives. Disfarmer charged very little for these portraits – ranging from just 25¢ to 50¢. Scholarship dedicated to this body of work notes the natural but solemn expressions of his subjects, a level of relaxation which can likely be attributed to Disfarmer living and working in a small community where everybody knew each other.

Disfarmer's photographs can be found in prominent collections including the Museum of Modern Art, NYC; and the Metropolitan Museum of Art, NYC.