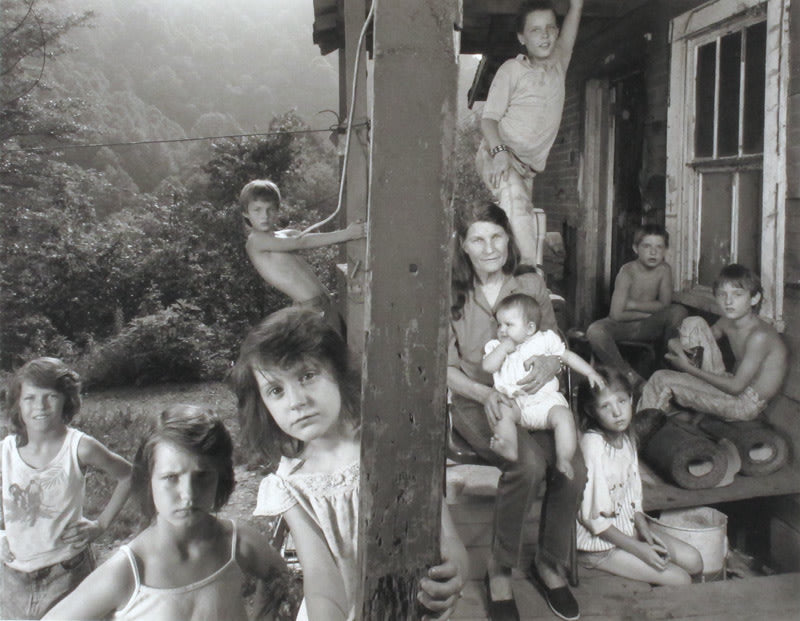 Leddie with Children by Shelby Lee Adams
Stephen Bulger Gallery (
Toronto, ON)
Need help?
Call or text us at (416) 639-1512
.
Learn about our
Shipping & Returns policy
.
Have a question?
Read our FAQ
.
Artwork Info
About the Artist
About this Photograph
1990
Gelatin silver print
Signed, titled, dated, and editioned, in pencil, au recto and verso
Edition 6 of 25
Printed circa 1995

Shelby Lee Adams has been photographing Appalachian families and individuals over the past 5 decades. Born and raised in Hazard, Kentucky, Shelby's work is a personal expressive statement of the human condition as seen through portraits he makes of his subjects, many of which he photographs year after year.

– Adapted from Wikipedia

This portrait of Leddie Sloan with her grandchildren is one of his best known images, and was the cover image of his first book Appalachian Portraits. A remarkable photograph, it shows his mastery of the 4×5 inch large format camera, as well as his skilled use of electronic flash. This type of formal portraiture is unusual in remote settings, but reflects his commitment to his people. It also enables his images to be imbued with the dignity they deserve, which is often neglected in the work of other photographers who have worked in this region.

PROVENANCE: Purchased by the current owner from Stephen Bulger Gallery in 1995.