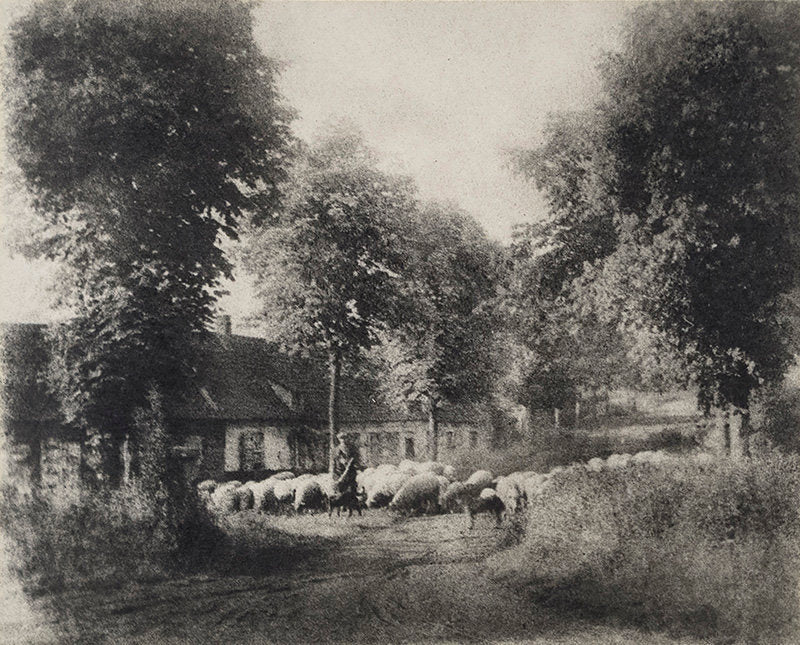 La Traversée by Alfred Fauvarque-Omez
Stephen Bulger Gallery (
Toronto, ON)
Need help?
Call or text us at (416) 639-1512
.
Learn about our
Shipping & Returns policy
.
Have a question?
Read our FAQ
.
Artwork Info
About the Artist
About this Photograph
1938
Bromoil print
Signed and titled, in pencil, au recto
Artist stamp, in ink, au verso
Printed circa 1938  

Alfred Fauvarque-Omez (Birth date unknow; died in 1958) was an amateur photographer working primarily in the region around Roubaix in northern France. Official biographical information is scarce; most anecdotal information about the artist and his practice is gleaned from the notes that he hand-wrote on the reverse side of his prints. Photographically, his interests initially fell in line with Pictorialism and its adherents before turning towards Modernism in his later practice. In the darkroom he favoured the Bromoil process to develop his prints; this was an oil-print process that was devised to enable enlarged prints.

This photograph is from the period of Alfred Fauvarque-Omez's art practice that was influenced primarily by Pictorialism. A Bromoil print, the subject matter is typical of his output for much of his practice during the early 1920s to late 1930s; pictorialist studies of rural locations that featured rural, scenic views and settings. This photograph from 1938 was made just prior to Fauvarque-Omez's pursuit of more Modernist compositions and subject matter; a direction that would see him put aside the Bromoil printing process for the more contemporary gelatin silver print process.