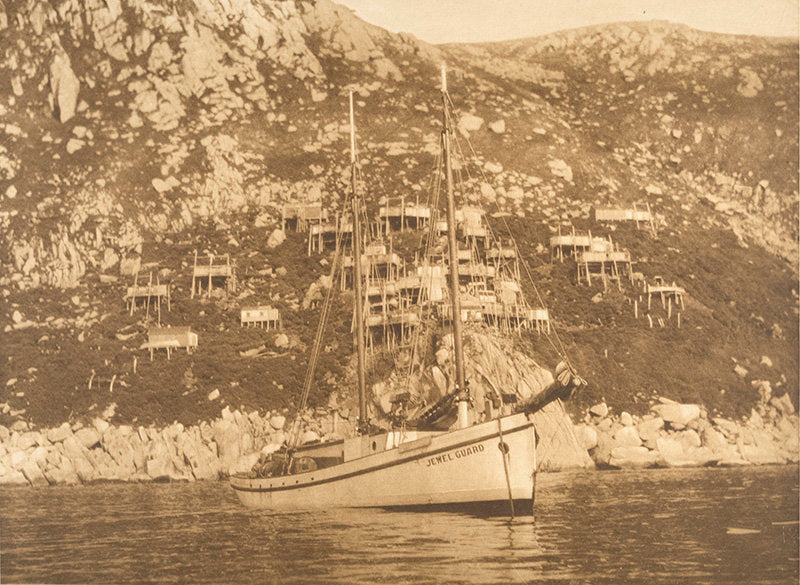 King Island Village From the Sea by Edward Sheriff Curtis
Stephen Bulger Gallery (
Toronto, ON)
Need help?
Call or text us at (416) 639-1512
.
Learn about our
Shipping & Returns policy
.
Have a question?
Read our FAQ
.
Artwork Info
About the Artist
About the Photograph
1928
Photogravure on Japanese tissue tipped to single-ply period board
Tissue size: 13 ⅜ x 16 ⅝ inch (33.97 x 42.23 cm)
Tipped to 15 ¼ x 19 inch (38.74 x 48.26 cm) board
Plate 700, Volume 20 of the North American Indian, published in 1930
Unframed

Edward Sheriff Curtis was an American photographer and ethnologist whose work focused on the American West and on Native American peoples.

– Source: Wikipedia

Original vintage prints by Edward Sheriff Curtis and his studio showcase an expertise with techniques that include fine examples of photogravures, albumen prints, gelatin silver prints, platinum prints, and other processes. Many of these techniques were used in the creation of his life's work, The North American Indian(1907-1930), a 20-volume project launched with a substantial investment by industrialist J.P. Morgan.

This luminous, golden-toned vintage photogravure is from Volume 20, the final volume in The North American Indian. It depicts the harbour at King Island (also known by its Inuit name, Ugiuvak), an island approximately 65km west of Alaska, in the Bering Sea.