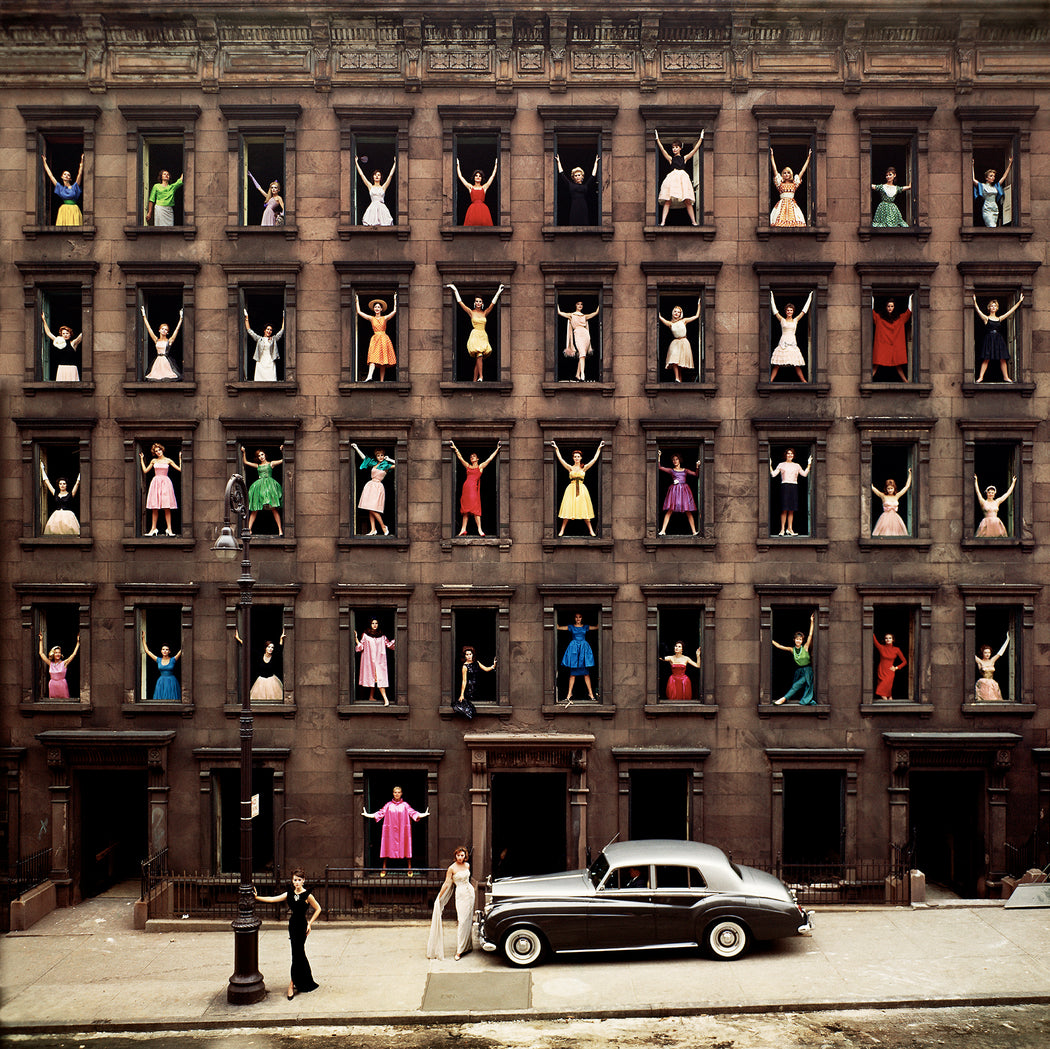 Girls in the Windows by Ormond Gigli
Stephen Bulger Gallery (
Toronto, ON)
Need help?
Call or text us at (416) 639-1512
.
Learn about our
Shipping & Returns policy
.
Have a question?
Read our FAQ
.
Artwork Info
About the Artist
About this Photograph
1960
Chromogenic print mounted to archival board
Signed, titled, dated, and editioned, in ink, au mount recto
Printed in 2011
Edition of 100 (#26/100)
Unframed

Ormond Gigli (1925-2019) was a celebrated American photojournalist with a career that spanned over forty years, working for the world's leading magazines including Time, Life, Paris Match, Colliers and other international publications.

Becoming known in the 1950s for photographs of theatre, film, and dance, Gigli stood out in the field with his mastery of photo direction from photo shoots of epic proportions to accomplishing intimate revealing portraits. His ability to put his subjects at ease during complicated, sometimes uncomfortable situations, was characteristic of his style as much as was the technical prowess of his camerawork.

He photographed countless leading stars and celebrities throughout his career, including Sophia Loren, Gina Lollobrigida, Anita Ekberg, Marcel Duchamp, Willem de Kooning, John F. Kennedy, Halston, Marlene Dietrich, Leslie Caron, Judy Garland, Liza Minelli, Barbra Streisand, Laurence Olivier, Alan Bates, Richard Burton, Louis Armstrong, Miles Davis, and many more.

Biography: OrmondGigli.com

"Girls in the Windows", 1960 is an image not only about beauty, fashion and the ingenious orchestration of 43 women standing at the windows and on the sidewalk, some daringly climbing onto the window sills. It is also a slice of time in history, as it captures a row of three classic New York Brownstones, which were demolished the day after the shoot. Gigli, who lived across the street, wanted to immortalize the buildings and thus envisioned the photograph. His meticulous planning and direction resulted in a dramatically compelling and memorable artwork.

The richness of the photograph stems from the ability to appreciate it in different ways: either as a whole, as a rhythmic composition of color and form, formed by the pattern of windows, human figures and colorful dresses; or the viewer is drawn to explore its various parts, each woman presenting a different point of interesting story (Gigli's wife is on the second floor, far right and the demolition supervisor's wife is on the third floor, third from left). It has since been the inspiration to many recreations by other image makers.