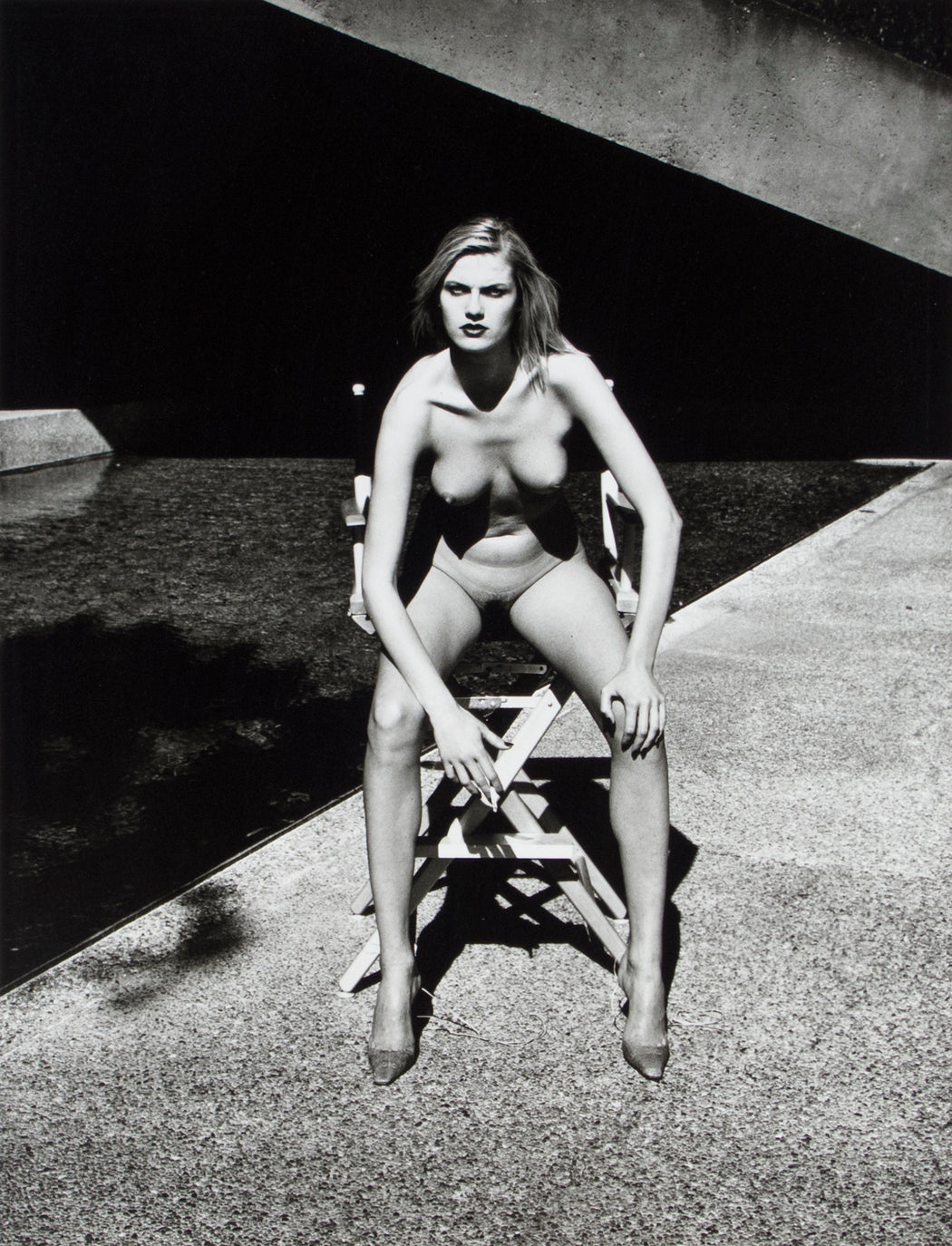 Cyberwoman 4 by Helmut Newton
Stephen Bulger Gallery (
Toronto, ON)
Need help?
Call or text us at (416) 639-1512
.
Learn about our
Shipping & Returns policy
.
Have a question?
Read our FAQ
.
Artwork Info
About the Artist
About the Photograph
2000
Gelatin silver print
Signed and editioned, in pencil, au verso
Edition 106 of 500, released by EYESTORM
Printed circa 2000

Helmut Newton (1920-2004) was a prolific, widely imitated fashion photographer whose provocative, erotically charged photos were a mainstay of Vogue and other publications.

Guided by a passion for the strength and allure of the female form and an unquenchable taste for the risqué, Newton reflected the sexual revolution of the 1960's and 70's, which coincided with his rise to fame. He photographed some of the most beautiful women in the world in poses that emphasized their sexuality, often with an accompanying sense of danger and violence.

His images, often in stark black and white, were calculated to shock, featuring tall, blond, sometimes naked women in heels, perhaps illuminated by headlights or trapped in a dark alley. Bondage, sadomasochism, voyeurism, murder, pornography, prostitution: each was exploited and explored in his photos over the years. Models were depicted in ways that few readers expected: in orthopedic corsets, or in wheelchairs, or on all fours wearing a dog collar.

His work was also closely associated with top designers, like Yves Saint Laurent, whose penchant for tight, wide-shouldered suits and long-legged models suited him.

Along with the photographers Herb Ritts, Irving Penn and Richard Avedon, Newton moved fashion photography from a staid reflection of the current year's styles to a more artful, glamorous presentation of mood and story. Unlike those contemporaries, who focused mainly on celebrities, Newton often preferred strapping, lesser-known models.

"Helmut was very clear that he liked a big girl and blond girl, in an impeccable suit and high heels," said Anna Wintour, the editor-in-chief of Vogue. "He would take that girl and put her in some wicked or naughty situation, kissing another woman or in handcuffs."

Newton's reputation as a provocateur was cemented by his first collection of photos, White Women, published in 1976. It would be the first of 10 collections, including Big Nudes (1982), a title that many felt summed up his photographic obsession.

Newton received many awards for his work, including the Grand Prix National de la Ville de Paris and Commander in the Order of Arts and Letters.

– Adapted from the artist's New York Times obituary

This photograph was an early release from the internet company called EYESTORM. An early online presence, this company created special edition photographs of high quality in larger than normal editions, enabling novice buyers an opportunity to purchase photographs at lower prices. Some photographs, like this one, were popular enough to sell out of their editions, causing the ones sold on the secondary market to increase in value. This print was purchased soon after its release and is re-entering the market via FFOTO.