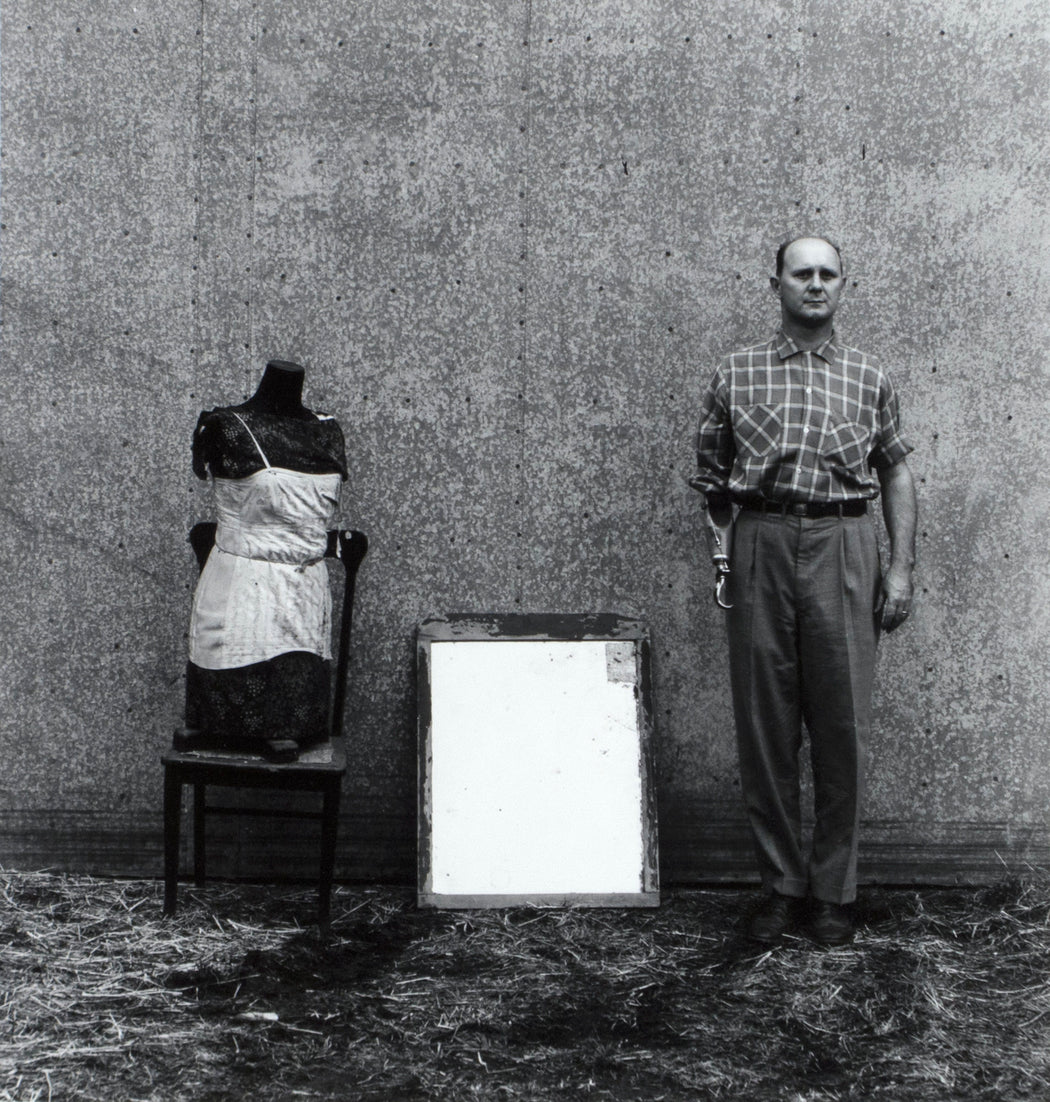 Cranston Ritchie by Ralph Eugene Meatyard
Stephen Bulger Gallery (
Toronto, ON)
Need help?
Call or text us at (416) 639-1512
.
Learn about our
Shipping & Returns policy
.
Have a question?
Read our FAQ
.
Artwork Info
About the Artist
About this Photograph
circa 1958-1962
Gelatin silver print
Dated, editioned, and annotated, "PF21670", in pencil, with photographer and printer stamps, in ink, au verso
Edition 2 of 25
Printed in 1998

Ralph Eugene Meatyard (American, 1925-1972) built both of his careers, photographer and optician, on his vision. He was born in Normal, Illinois, and graduated from University High School at Illinois State University in 1943. He served in the military until 1946, became a licensed optician in 1949, and accepted a job in 1950 with an optical firm in Lexington, Kentucky, where he remained until he opened his own shop in 1967.

His involvement with photography began in 1950, after the birth of his first son. By 1954 he was studying photography with Van Deren Coke, and had joined the Lexington Camera Club and the Photographic Society of America. The blurred figure, a hallmark of his work, began to appear the following year. In 1956, Meatyard's images were presented along with those of Ansel Adams, Aaron Siskind, and Harry Callahan in Creative Photography, an exhibition curated by Coke for the University of Kentucky.

Although Beaumont Newhall considered him in a 1961 article for Art in America entitled "New Talent in Photography U.S.A.," Meatyard received scant recognition during his lifetime; he joked that he had the only copy of Newhall's The History of Photography with his work included, since he had glued one of his own images into the book. The posthumous release of Meatyard's first monograph in 1974 coincided with the publication of his book The Family Album of Lucybelle Crater. His work was the subject of a retrospective at the Akron Art Museum, accompanied by a companion monograph, Ralph Eugene Meatyard. In 2005, the International Center of Photography presented a selection of his work in an exhibition and catalogue titled Ralph Eugene Meatyard.

Meatyard was an experimental artist and is now considered a key figure in American "visionary" photography. His work, with its recurrent masked figures and other ghostlike apparitions, all borne from his imagination, are strangely alien. His work suggests a world that is not our own. 

Source: International Center of Photography

This is a print made posthumously by Christopher Meatyard in a limited edition. Appearing in many of his father's photographs, Christopher's early introduction to photography became important after the early death of Ralph because his photographic legacy was left to his surviving family to enshrine.

As with the photography of artists like August Sander and Diane Arbus, market demand from collectors and institutions cannot be met by the existing supply of lifetime prints so, working from original negatives and endorsed by an artist's estate, a selection of important images may be printed posthumously. Priced much lower than lifetime prints, posthumous prints (sometimes referred to as 'Estate Prints') make some of an artist's best-known works available once again.