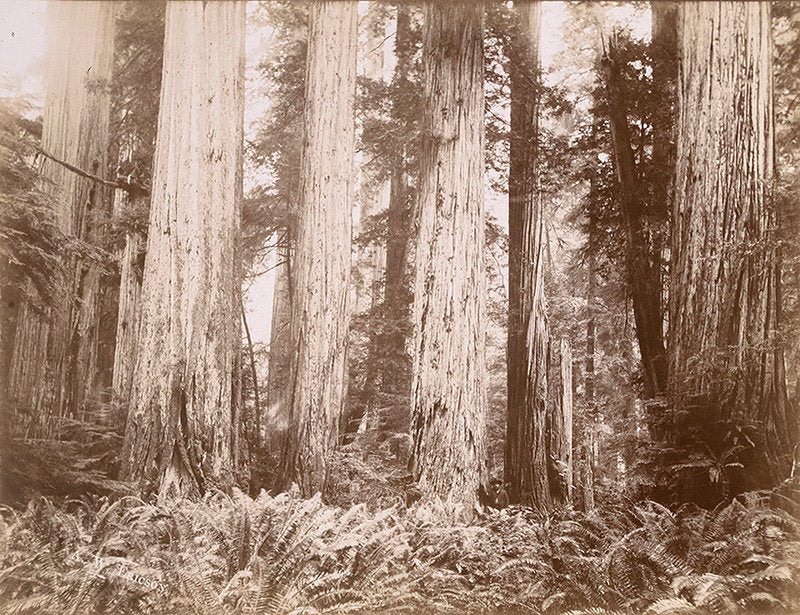 Scene in the California Redwoods, Humboldt County by Augustus William Ericson
Stephen Bulger Gallery (
Toronto, ON)
Need help?
Call or text us at (416) 639-1512
.
Learn about our
Shipping & Returns policy
.
Have a question?
Read our FAQ
.
Artwork Info
About the Artist
About this Photograph
1890
Albumen print mounted to period board
Signed, as part of image, with artist stamp, including title, in ink, au mount recto
Printed circa 1890

Augustus William Ericson (1848-1927) was born in Orebro, Sweden. At age eleven he began a printing apprenticeship, his father's occupation, and later had an apprenticeship in the dry goods business. At age eighteen and without his parent's approval he came to the United States. His first job was in retail in Chicago and later he found work in a logging operation in Michigan.

A.W. (Gus) Ericson took up photography after he had lived in Humboldt County about nine years. From 1869 - 1876 he had lived in Trinidad while working in the Hooper Brothers lumbering enterprise and then in a retail store. In 1876 he settled in Arcata and started a career as the proprietor of a series of retail businesses. As was common in dry goods stores of that time, he sold a variety of goods and services, from pharmaceuticals and stationery to a printing service. He began to take pictures of local businesses and landscapes and place them for sale in his store windows. Eventually Ericson also began to receive commissions for photographs and he could concentrate solely on photography.

His brother Richard Ericson (1843 - 1924) joined A.W. upon his arrival from Sweden in 1882, and joined the operation. The publication Eureka and Humboldt County around 1896 notes that Richard was also considered a photographer. By 1980 the Arcata Union newspaper begins to mention that Edgar (1887 - 1961) was also taking photographs. Although Richard and Edgar did take photographs A.W. is credited with the vast majority of the images taken outside the studio, and as the one with the artistic talent. As A.W. Ericson entered retirement Edgar and his sister, Ella Ericson Bryan, took over and maintained the family business until 1955.

A.W. Ericson's work was widely published and recognized during his lifetime, included in numerous publications and expositions. Photo historian Peter Palmquist has published two excellent books that place Ericson's work in historical context, Photographers of the Humboldt Bay Region, A.W. Ericsonand Fine California Views: the photographs of A.W. Ericson

A.W. Ericson took up photography as a business in 1879, after he had lived in Humboldt County for nine years. His photographic work took him all over Northern California, recording the favorite places, events and social activities of his day. As a merchant and resident of Arcata he delighted in photographing everyday life and the changing landscape. His logging and mill experience from time spent in Michigan worked to his advantage when he photographed woods workers, timberlands and logging technology.