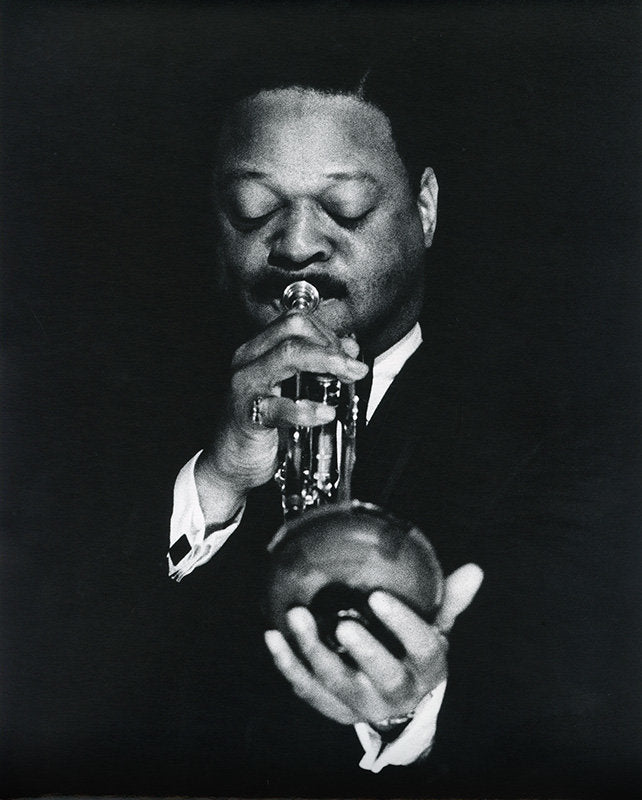 Clark Terry by Franz J. Rosenbaum
Stephen Bulger Gallery (
Toronto, ON)
Need help?
Call or text us at (416) 639-1512
.
Learn about our
Shipping & Returns policy
.
Have a question?
Read our FAQ
.
Artwork Info
About the Artist
Circa 1964
Gelatin silver print
Titled, in pencil, au verso Printed
circa 1964
SBG-FJR-0071-O

FRANZ ROSENBAUM 
(b. Cologne, Germany, 1929; d. 2012) 

Franz Rosenbaum graduated from Economics at the University of Bonn. In 1952 he joined the German Diplomatic Service. His postings included: Singapore (Attaché) 1953 to 1956, Cyprus (Commercial Secretary) 1958 to 1963 and Toronto (Trade Commissioner) 1964 to 1975. 

After a short posting to Chicago in 1976 he relinquished his diplomatic career and returned to Toronto to study Photojournalism, specializing in yachting, windsurfing and surfing photography. Travelling world wide he covered the major international events in this field. 

In 1979 he was named Canadian Photographer of the year at the Manisphere Exhibition in Winnipeg. The National Film Board of Canada purchased his winning photograph. In 1981 he was accepted as a member of the NPPA, the Professional Press Photographers Association of the United States and Canada. In 1984 he was awarded an Associate ship of the Royal Photographic Society in London, England in recognition of his photographic achievements. Then in 1985 he won the coveted RSP World Championship for a portfolio of windsurfing photographs of that prestigious society, a prize contested for by over two thousand entries from 28 countries. 

Franz, along with Franco Pace, Keith Beken and Jonathan Eastland, was a founding member of the International Marine Photographers. It was established in 1986 while all four members were in Western Australia covering the America's Cup, an annual yachting competition. 

He was the recipient of a number of international awards. In 1988, one of his pictures was selected Eastman Kodak for a four-foot by seven-foot display in the Professional Photographer's Showcase at Disney World's Epcot Centre. His photographs, including over one thousand covers and illustrated articles, have appeared in magazines, books and newspapers in Europe, North America and Australia. 

He gave numerous lectures and slide shows on his highly specialized field of photography. His corporate clients included: Rolex, Mumm Champagne, Mercedes-Benz, Alcan, INCO, Shulton, IBM, PPG, DuPont, Eastman Kodak, Canon, Hawker-Siddeley, Pitney Bows, and Timex. Some of his individual clients were: Baron Bich of BIC Corp. in France, Ted Turner of Turner Broadcasting in USA and Sir James Hardy of Hardy Wines in Australia. 

His introduction to Jazz was quite accidental. Listening to radio stations on a crystal receiver in the fall of 1943 he occasionally was able to pick up a few bars of an intriguing rhythm that he had never heard before. They most probably originated from the American Forces Network, which started broadcasting in England that year. Two years later this network would be established in Germany and provide the answer: the broken-up segments of music he had caught in 1943 were called the "Beat". Now a regular listener of the AFN he became hooked on Jazz. 

Although his photographic Jazz period extends only over four years (1964-1968) it was very productive. At the time Toronto was a hotbed of Jazz and he soon was able to establish himself on the jazz scene. Twice he covered the Newport Jazz Festival, for the Globe Magazine in 1965 and for the Telegram in 1966. His photographs have been published in magazines and newspapers in North America and Europe and the major recording companies have used his images on records and CDs. He has tried to capture the dedication of the artists that is mirrored in their faces as they find new ways of improvising with each performance. It is a spontaneous, creative process that is unique to jazz. 

Franz Rosenbaum died on Saturday June 9, 2012 and is survived by his sons Martin and Richard, and by grandchildren Kellan, Paul and Alexis.