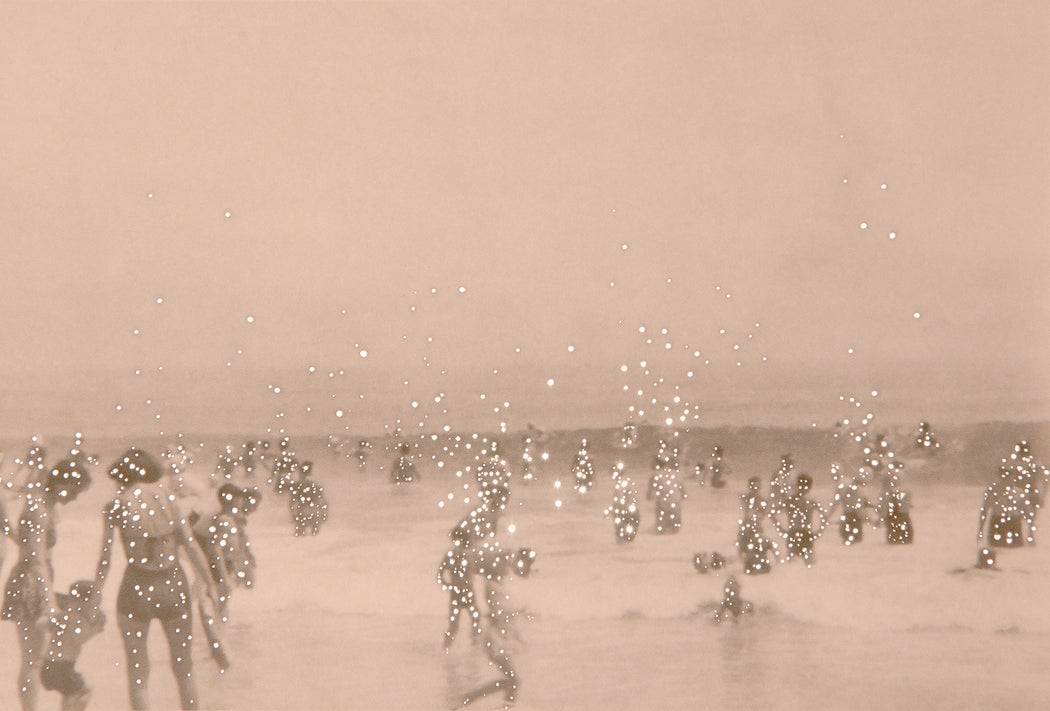 Atlantic City, 1948 by Amy Friend
FFOTO Private Holdings (
Toronto, ON)
Need help?
Call or text us at (416) 639-1512
.
Learn about our
Shipping & Returns policy
.
Have a question?
Read our FAQ
.
Artwork Info
About the Artist
About Dare Alla Luce
2020 - ongoing
Archival print on Hahnemuhle Fine Art Pearl 285 gsm paper
From the series DARE ALLA LUCE
Signed, titled, and editioned, in pencil, au verso

12.5 x 18.5 Inch image | 17 x 22 inch paper: Edition of 10
27 x 40 inch: Edition of 5
Unframed

Amy Friend is a Canadian artist working with various methodologies through photography, installation, and community-based collaborations. Friend's work fluctuates with investigations relative to history, time, land-memory, dust, oceans and our connection to the universe.

Friend's process driven work has been included in national and international exhibitions, projects and festivals including, Gexto Photofestival (Spain), Paris Photo, incamera galerie (France), Museum London (Canada), Onassis Cultural Center (Greece), ASPA (Sardinia), DongGang Photography Museum (South Korea), GuatePhoto (Guatemala), Mosteiro de Tibães at the Encontros Da Imagem (Portugal), Rodman Hall (Canada), Photoville (New York, USA), National Portrait Gallery, (UK), and at the Abbaye De Silvacane, La Roque D'Antheron (France) and most recently at the Bibliothèque Nationale De France for the exhibition, L'épreuve de la matière, curated by Héloïse Conésa.

Her work has been featured in select publications such as, New York Times Magazine (USA), Keeper of the Hearth (Amsterdam), California Sunday Magazine (USA), GUP Magazine (Amsterdam), LUX (Poland), EyeMazing (Thames and Hudson), Time Magazine (USA), and The Walrus (Canada). Friend published the monograph, Stardust with L' Artiere Publishing, Italy in 2017 and has a new publication in the works. In 2018 Friend was selected for the Elles X exhibition at Paris Photo, curated by Fannie Escoulen, showcasing the work of 100 women photographers, from the beginning of photography to today and will be included in the 2023 anniversary publication.


Artist Statement: DARE ALLA LUCE

"I am not specifically concerned with capturing a 'concrete' reality in my photographs. I aim to use photography as a medium that explores the relationship between what is visible and non-visible. I have continued to work on the Dare alla Luce series over a period of time; initially responding to a collection of vintage photographs, retrieved from a variety of sources. Through hand-manipulated interventions I alter and subsequently re-photograph the images 're-making' photographs that oscillate between what is present and absent. I aim to comment on the fragile quality of the photographic object but also on the fragility of our lives, our history. All are lost so easily. By employing the tools of photography, I 're-use' light, allowing it to shine through the holes. In a playful and yet, literal manner, I return the subjects of the photographs back to the light, while simultaneously bringing them forward. The light becomes a presence and I use it metaphorically allowing for new readings, sometimes through heavy-handed applications and at other times delicately. The images are permanently altered; they are lost and reborn, hence the title, Dare alla Luce, an Italian term meaning, 'to bring to the light' in reference to birth. The title of each piece is significant; some titles were taken directly from the notations found written on the photographs, yet those without any indication of provenance were titled to reference the nuances and technical processes of photographic production as a medium while commenting on the manner in which we interact with these images."