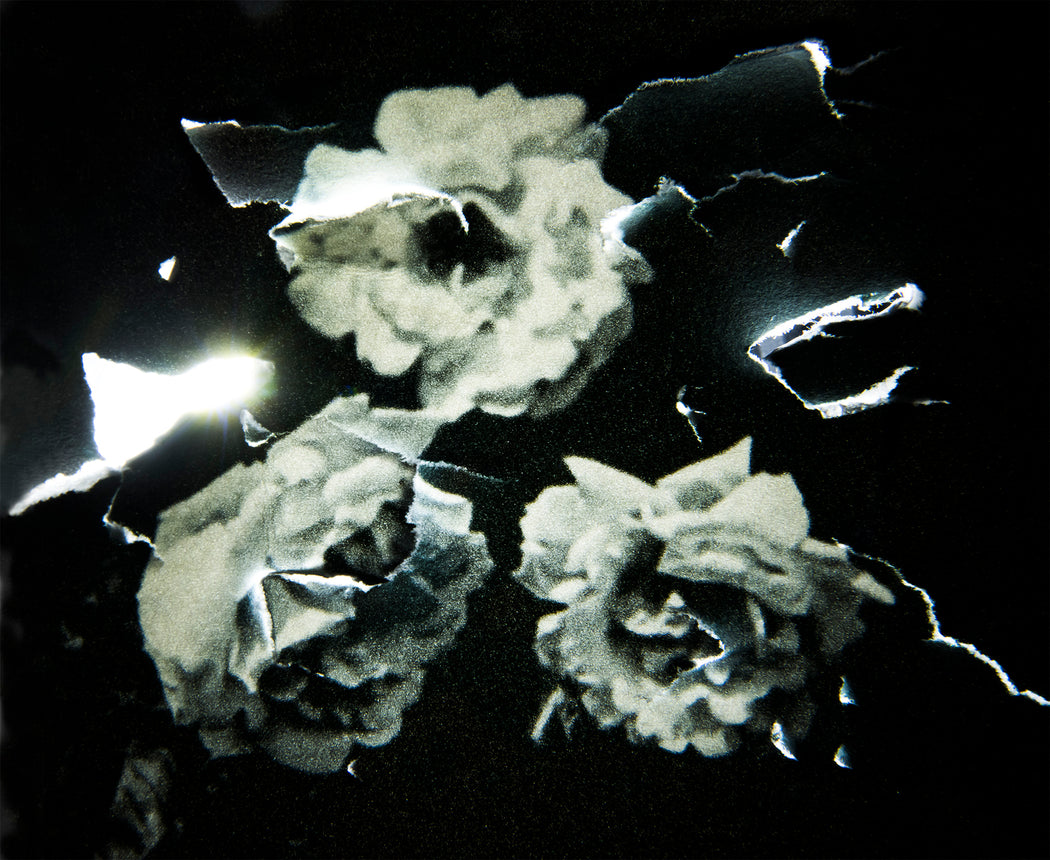 And her flowers still grow by Amy Friend
FFOTO Private Holdings (
Toronto, ON)
Need help?
Call or text us at (416) 639-1512
.
Learn about our
Shipping & Returns policy
.
Have a question?
Read our FAQ
.
Artwork Info
About the Artist
About Multi-Verse
2018
Hahnemuhle Photo Rag
From the series Multi-Verse
Signed, titled, and editioned, in pencil, au verso

11.97 x 14.65 inch image | 13 x 19 inch paper: Edition of 7
20 x 24.41 inch: Edition of 5
Unframed

Amy Friend is a Canadian artist working with various methodologies through photography, installation, and community-based collaborations. Friend's work fluctuates with investigations relative to history, time, land-memory, dust, oceans and our connection to the universe.

Friend's process driven work has been included in national and international exhibitions, projects and festivals including, Gexto Photofestival (Spain), Paris Photo, incamera galerie (France), Museum London (Canada), Onassis Cultural Center (Greece), ASPA (Sardinia), DongGang Photography Museum (South Korea), GuatePhoto (Guatemala), Mosteiro de Tibães at the Encontros Da Imagem (Portugal), Rodman Hall (Canada), Photoville (New York, USA), National Portrait Gallery, (UK), and at the Abbaye De Silvacane, La Roque D'Antheron (France) and most recently at the Bibliothèque Nationale De France for the exhibition, L'épreuve de la matière, curated by Héloïse Conésa.

Her work has been featured in select publications such as, New York Times Magazine (USA), Keeper of the Hearth (Amsterdam), California Sunday Magazine (USA), GUP Magazine (Amsterdam), LUX (Poland), EyeMazing (Thames and Hudson), Time Magazine (USA), and The Walrus (Canada). Friend published the monograph, Stardust with L' Artiere Publishing, Italy in 2017 and has a new publication in the works. In 2018 Friend was selected for the Elles X exhibition at Paris Photo, curated by Fannie Escoulen, showcasing the work of 100 women photographers, from the beginning of photography to today and will be included in the 2023 anniversary publication.


Artist Statement: Multi-Verse

"Do parallel universes exist?

The photographs in this series draw on diverse subject matter, imagery from across multiple time-periods created from a blend of vernacular photographs and my own photography. In previous work, I employed experimental processes and I continue to expand on this through various hand-applied manipulations to the photographic surface. These interventions are aimed at interrupting expectations and expanding our interactions with the photograph and its meaning.

The title of the series, Multi-verse, references what cosmologists and physicists describe as parallel universes, where alternate realities exist. The photographs here relate to the idea of a multiverse through their variances in time, location, subject matter and visual disruptions via the altered surface and light that emanates through the perforations.  In addition to the specifics of the multiverse definition, I play with the meaning of the word 'multiverse' by breaking it apart (multi-verse) to reference the numerous stories or 'verses' we may encounter or recall through these photographs.

As I worked on this project, the ongoing environmental destruction, political turmoil, and human rights violations (to name a few), played a part in how I related to the imagery.  My response was initially to create oppositional imagery of peaceful moments from everyday life, moments of tranquility, beauty, portraits of mothers and children, but as I worked on the series I felt it necessary to include photographs that might suggest or reference undercurrents of today's turbulence with images of soldiers and floodwaters while disrupting some of the images to indicate darker elements at play. The titles of each photo serve to guide or link to this aspect of the work, while leaving room for the photographs to transcend any concrete reading.  The meaning of each image shifted and continues to shift and their 'solidity' becomes more and more malleable. I reference the past, the here and now, the visible and invisible, literally and poetically, albeit not through overtly political photographs.

The medium of photography has always held a currency of possibility. In this series, I work to find meaning in the chaos, to be with it and to look for an alternate story from where we are - a multiverse."