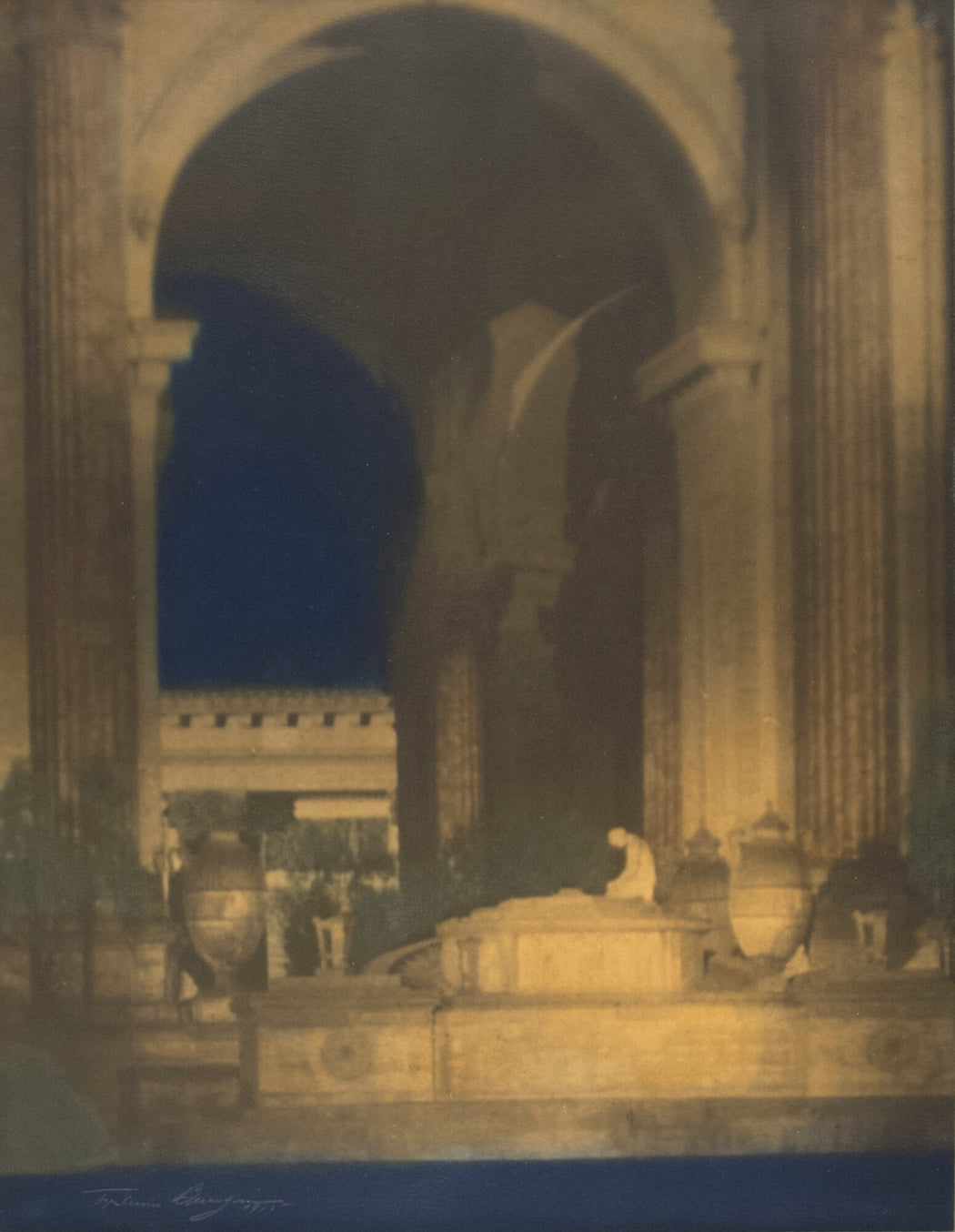 Altar Before Rotunda, Palace of the Fine Arts, Panama Pacific International Exposition by Francis Joseph Bruguière
Stephen Bulger Gallery (
Toronto, ON)
Need help?
Call or text us at (416) 639-1512
.
Learn about our
Shipping & Returns policy
.
Have a question?
Read our FAQ
.
Artwork Info
About the Artist
About this Photograph
1915
Hand coloured gelatin silver print
Signed and dated, in pencil, au mount recto
Printed circa 1915
Published: Watkins to Weston: 101 Years of California Photography 1849-1950, p. 83.

In 1905, Francis Joseph Bruguière (15 October 1879 – 8 May 1945) became acquainted with photographer and modern art promoter Alfred Stieglitz (who accepted him as a Fellow of the Photo-secession), and set up a studio in San Francisco, recording in a pictorialist style images of the city after the earthquake and fire.

In 1918, he moved to New York City where he made his living by photographing for Vanity Fair, Vogue, and Harper's Bazaar. Throughout his life, Bruguière experimented with multiple-exposure, solarization, original processes, abstracts, photograms, and the response of commercially available film to light of various wavelengths. Until his one-man show at the Art Centre of New York in 1927, he showed this work only to friends.

Adapted from: Wikipedia.com

This hand-coloured, vintage print is signed and dated by the artist. The photograph depicts the rotunda of the Panama-Pacific International Exposition, a world's fair that was held in San Francisco in 1915. The fair was widely viewed as a spectacular showcase following the devastating effects of the earthquake and fire that completely destroyed the city in 1906.

An evocative, romantic composition, the photograph presents examples of Bruguière's use of alternative approaches to making photographic prints. Due to the hand-tinting, this is a unique item.