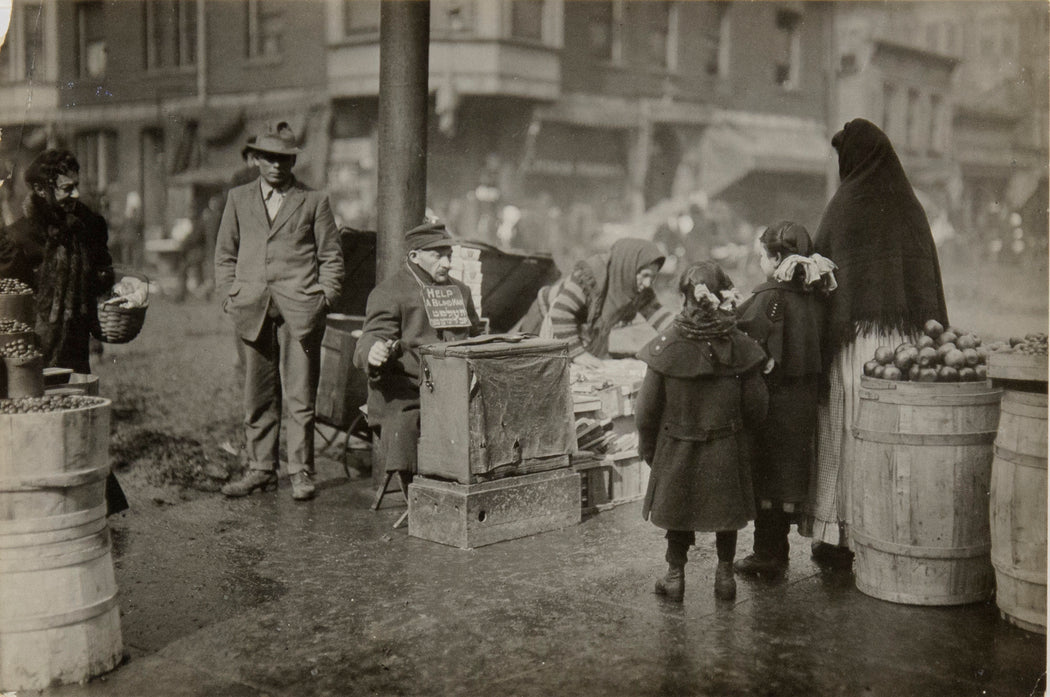 A Corner in the Italian Market District, Chicago by Lewis Hine
Stephen Bulger Gallery (
Toronto, ON)
Need help?
Call or text us at (416) 639-1512
.
Learn about our
Shipping & Returns policy
.
Have a question?
Read our FAQ
.
Artwork Info
About the Artist
About this Photograph
1911
Gelatin silver print mounted to period board
Titled, with artist stamp, order no., and set
ID no., in ink, dated and annotated, "523", "114", in pencil, au verso
Titled, dated, and annotated, in ink, au mount verso
Printed circa 1911

Lewis Hine (1874-1940) was trained to be an educator in Chicago and New York. A project photographing on Ellis Island with students from the Ethical Culture School in New York galvanized his recognition of the value of documentary photography in education. Soon after, he became a sociological photographer, establishing a studio in upstate New York in 1912.

For nearly ten years Hine was the photographer for the National Child Labor Committee, contributing to exhibitions and the organization's publication, The Survey. Declaring that he "wanted to show things that had to be corrected," he was one of the earliest photographers to use the photograph as a documentary tool. Around 1920, however, Hine changed his studio publicity from "Social Photography by Lewis W. Hine" to "Lewis Wickes Hine, Interpretive Photography," to emphasize a more artistic approach to his image making. Having joined the American Red Cross briefly in 1918, he continued to freelance for them through the 1930s. In 1936 Hine was appointed head photographer for the National Research Project of the Works Projects Administration, but his work for them was never completed. His last years were marked by professional struggles due to diminishing government and corporate patronage, and he died in 1940 at age sixty-six.

– Adapted from getty.edu

This photograph offers a glimpse into a typical street scene before The Great War. In many of Hine's photographs, the central figure is posed, often looking into the camera, resulting in a portrait of someone located within their natural surroundings. Here, one figure seems to be scrutinizing the photographer, but the others seem unaware their picture is being taken, giving a more candid impression. A contact print, the details are remarkably sharp and the warm toned print imbues the scene with nostalgia.